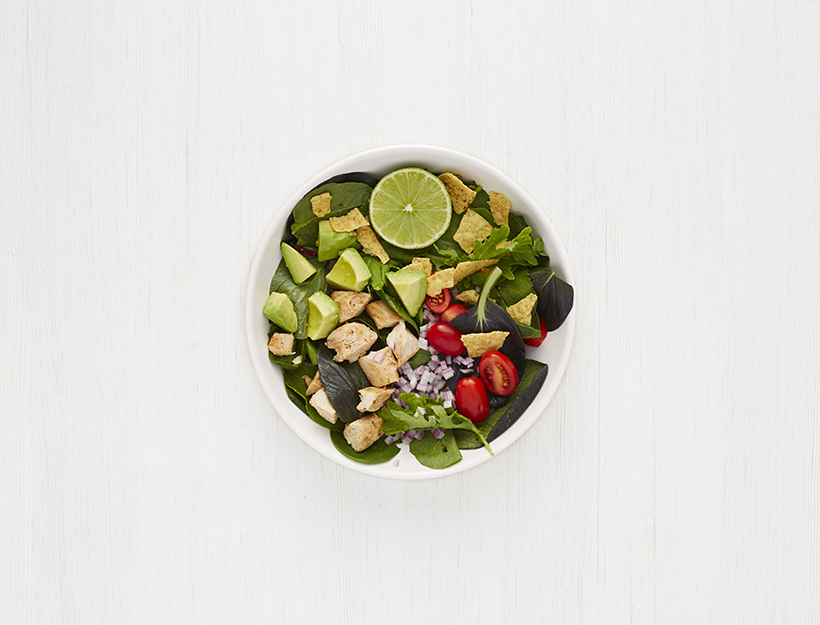 Guacamole Greens
This is the only sweetgreen item that's been on the menu all 9 years, which means it has to be good.
½ pound mixed lettuces (like red leaf, butter leaf and little gems), chopped up
¾ pound warm toasted chicken, cut into chunks
2 cups tortilla chips
1 cup grape tomatoes, cut in half
¼ cup red onion, small dice
2 each avocado, large dice
2 limes, cut in half
3/4 cup lime cilantro jalapeno dressing (see recipe)
for the lime cilantro jalapeño vinaigrette:
1 clove garlic
1 tablepsoon red onion, minced
1/2 cup roughly chopped cilantro leaves
1 large jalapeno, seeded and chopped
1 teaspoon kosher salt
½ teaspoon cumin
½ teaspoon chili powder
¼ cup lime juice
¼ cup white wine vinegar
¼ cup nutritional yeast flakes (optional)
1 1/2 cups grape seed oil
1. First, make the dressing. Combine all ingredients except the oil in a blender. Blend on low to chop everything up, then slowly add the oil while blending to create an emulsion. Season to taste with more salt if necessary.
2. Combine all salad ingredients in a large bowl just before serving. When ready to eat, squeeze over the lime and toss with dressing to taste.