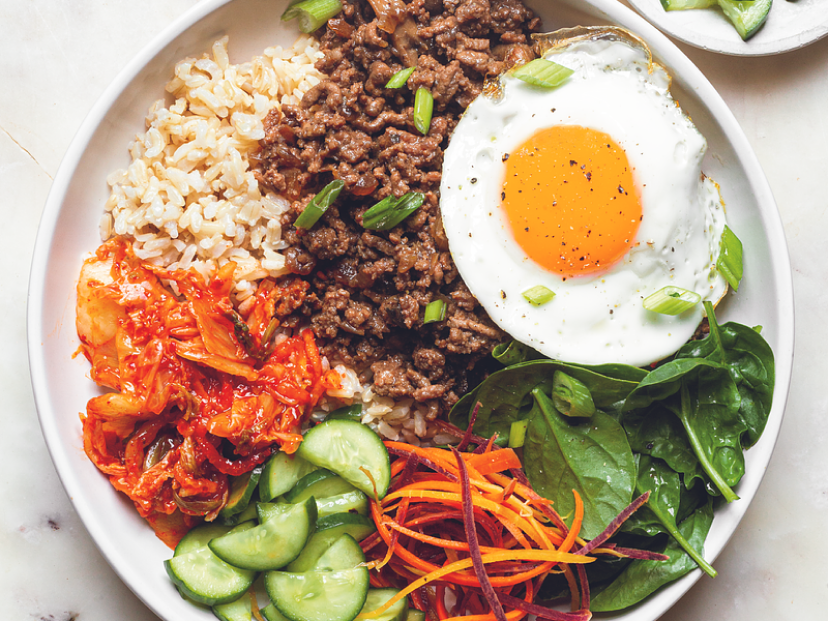 Ground Beef Bulgogi Bowls
With practicality at its core, these Korean-inspired beef bowls are a nod to my mom's weeknight "savory mince," ground beef browned with aromatics like onion and garlic. She seasoned the beef with whatever the pantry had to offer, sometimes a few tablespoons of brown gravy powder and water; then she bulked up the beef with any vegetables that needed to be used that week. For us that mostly meant bagged frozen vegetable mix or potatoes, mushrooms, and peas. For many reasons, I don't do the bagged mixes anymore, replacing them with the few random vegetables in my refrigerator for this speedy dinner. I use ground beef instead of the thinly sliced rib eye that's traditional for bulgogi and bulk up the meal with shiitake mushrooms. It's a clean-out-your-fridge kind of dinner, so feel free to swap in whichever vegetables you have available. Most nights, the urge to top the bowls with a fried egg and kimchi eaten straight from the jar at the table is too strong to resist.
1. In a small bowl, stir together the soy sauce, sugar, sesame oil, and pepper.
2. In a large saucepan, heat the avocado oil over medium-high heat until it just starts to shimmer. Add the onion, mushrooms, garlic, and ginger and cook, stirring often, until the onion is translucent and the mushrooms are reduced in size, 2 to 3 minutes. Add the beef and cook, stirring occasionally, until evenly browned, 5 to 6 minutes. Pour off the excess fat, then return to the heat and stir in the soy sauce mixture. Cook, stirring occasionally, until the beef is glossy and the sauce is reduced by half, about 2 minutes.
3. To serve, scoop the rice into bowls and top with the spinach, dividing evenly. Add the beef, then top each bowl with an egg and scatter with the green onions. Pass some pickled cucumbers and kimchi at the table, if desired.
To make the pickled cucumbers:
1. In a small bowl, combine the cucumbers, vinegar, and salt. Stir and set aside at room temperature until ready to serve.
Excerpted from South of Somewhere. Copyright © 2023, Dale Gray. Photography copyright © 2023 by Dale Gray. Reproduced by permission of Simon Element, an imprint of Simon & Schuster. All rights reserved.
Originally featured in Quick Recipes for Flavor-Packed Dinner Bowls