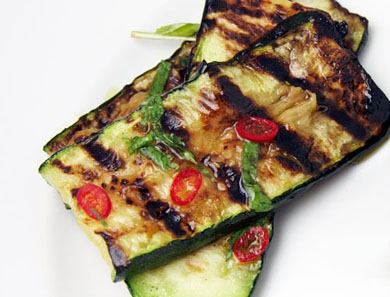 Grilled Zucchini with Mint and Red Chili
It's best to let the flavor of the zucchini develop slowly on a not-too-hot grill, lending a wonderful, almost-fried flavor.
1. Preheat your grill to medium.
2. Cut each zucchini in half crosswise, then cut each half into ⅛-inch planks.
3. In a very large bowl, toss the zucchini with ¼ cup of the olive oil.
4. Lay the zucchini on the grill and cook for about 4 minutes per side, keeping the heat moderate so that you're sweating them and not really giving them a ton of color.
5. Turn the heat up to high and grill for about a minute more on each side to mark them. Depending on the size of your grill, this may need to be done in batches.
6. Remove the zucchini to a large platter.
7. Whisk together the remaining ¼ cup olive oil with the vinegar, mint, and chili (I just use the bowl I originally tossed the zucchini in).
8. Drizzle this over the zucchini, being sure to evenly distribute the chili, then sprinkle with coarse salt and serve.
Originally featured in Antipasti