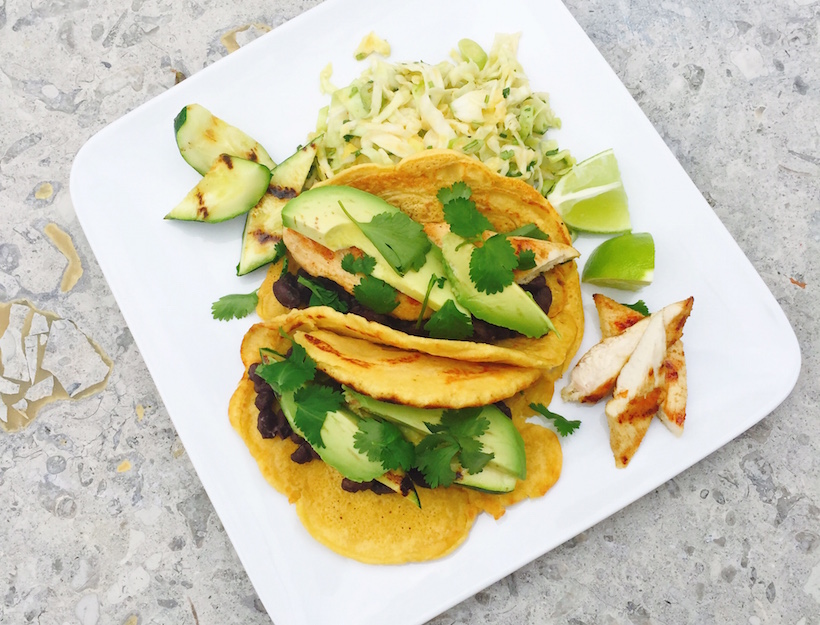 Grilled Zucchini Socca Tacos
These vegan tacos are so satisfying that you won't miss the corn or wheat flour of standard tortillas. Feel free to skip the slaw or use grilled chicken in place of the zucchini. This recipe makes 2 extra socca "tortillas." For these, skip the baking step and make them into wraps with hummus and veggies for a snack the following day.
1. Preheat oven to 350°F.
2. To make the socca, whisk together the chickpea flour, water, olive oil, and a generous pinch of salt in a medium bowl. Let sit for at least 15 minutes.
3. Meanwhile, make the garnish: Combine the onion, cilantro, lime zest, and jalapeño in a small bowl and set aside.
4. Heat a small (preferably nonstick) sauté pan over medium-high heat and add 1 teaspoon olive oil. When the pan is hot but the oil is not smoking, add about ¼ cup socca batter. The batter should immediately spread into a nice 4- to 6-inch pancake, but if it doesn't, simply lift and turn the pan to help it spread out.
5. When the bottom is beginning to brown, and you can see tiny bubbles on the surface (1 to 2 minutes), flip the socca and cook for another 1 to 2 minutes on the other side. Remove to a paper-towel-lined plate when cooked. Continue this process until you have used all the batter, adjusting heat and adding oil as needed. You should have 6 socca.
6. To make crunchy taco shells, nestle 4 socca in the ridges of a flipped-over muffin tin. Place the muffin tin in the oven and bake for 20 minutes, until the socca are crispy and beginning to brown at the edges.
7. Meanwhile, heat a grill pan over medium-high heat. Cut the zucchini in half and drizzle with olive oil, salt, and a pinch of cumin.
8. Place the zucchini halves on the grill pan, flat side down, and cook until there are nice grill marks, 3 to 5 minutes. Flip and cook on the other side for 2 more minutes. Remove and cut each half into 4 pieces.
9. For the slaw, whisk together the tahini, lime juice, cumin, cayenne, olive oil, and salt to taste.
10. Toss with cabbage, cilantro, and sliced scallions.
11. To assemble tacos, spread each socca with black beans, layer in zucchini and avocado, and garnish with onion cilantro mixture. Serve with fresh lime and coleslaw on the side.
Originally featured in The Annual goop Detox