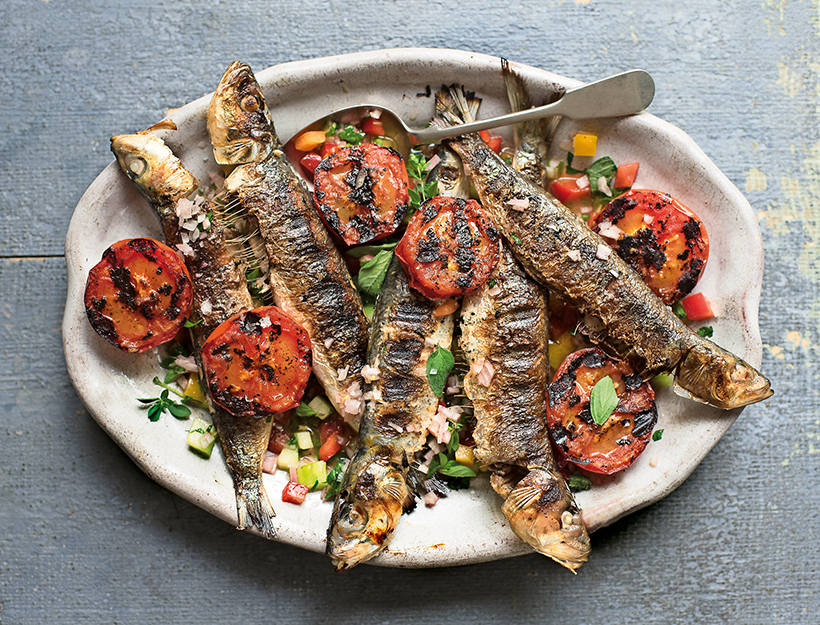 Grilled Sardines and Tomatoes with Crunchy Herb Dressing
"Sardines, known as the king of the sea, are a fantastically rich source of the omega-3 essential fatty acids, EPA and DHA, as well as a wealth of other nutrients, from vitamin D to calcium. The omega-3 fats are essential for healthy skin, but most Western diets are unfortunately deficient, so making sure that you eat plenty of nuts, seeds, and cold-water oily fish like sardines can really help you glow. This dish can be savored at any time for a great big dose of skin-boosting nutrition."
1. To make the dressing, marinate the shallots in the red wine vinegar. Meanwhile, chop the herbs, peppers, and cucumber finely and mix together. Add the olive oil, fish sauce, and lemon juice. Drain the shallots and add them to the dressing, discarding the vinegar.
2. Cook the green beans or runner beans in salted boiling water for 3 to 4 minutes. Drain and rinse in cold water and set aside.
3. Heat a broiler pan and broil the tomatoes (salted and brushed with avocado or coconut oil) for 3 minutes on each side. Set aside on a serving plate.
4. Raise the heat to high and broil the whole sardines (salted and brushed with oil) in the same pan for 3 to 5 minutes on each side. Arrange the cooked sardines on the serving plate and drizzle with the dressing. Serve with the beans on the side.
Originally featured in London's Top Nutritionist on Eating for Beauty