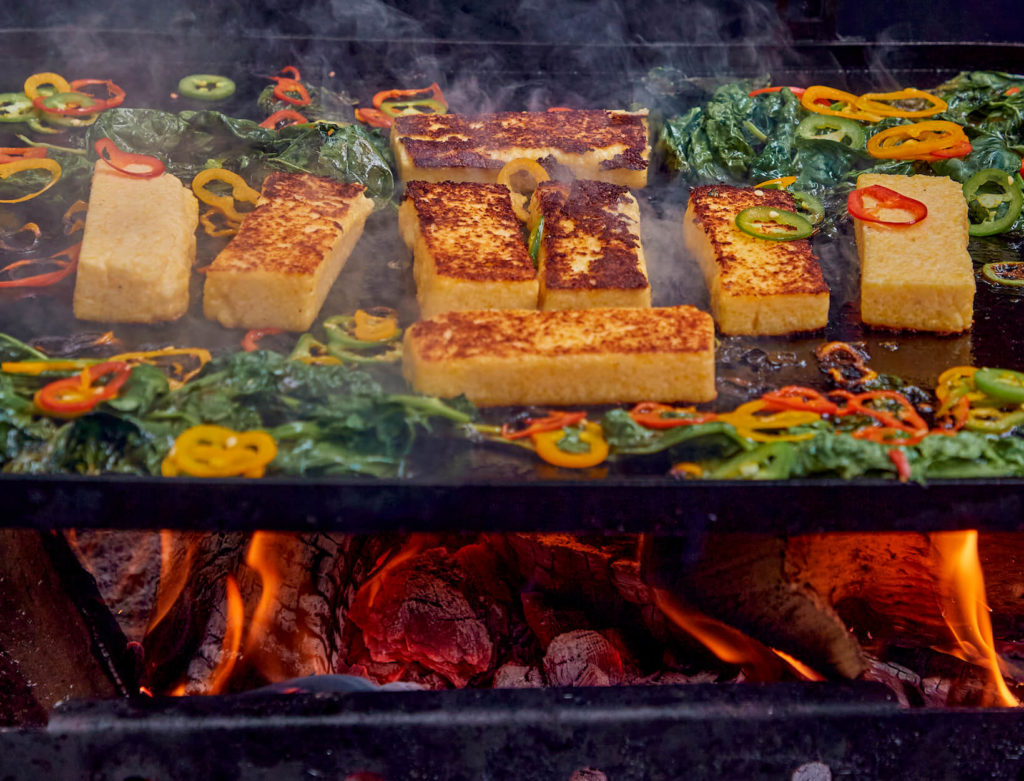 Grilled Polenta Slices with Charred Spinach and Chiles
"Whenever I visit my refuge on a little island in the remotest outback of Patagonia, I often make a batch of polenta that I store in loaf pans and eat for days. In winter, when the snow is piled in huge drifts outside my cabin door, I'll bury the loaf pans in the snow until I'm ready to slice the polenta, grill it, and feed a campful of guests and relatives. As a main course or a side dish, polenta slices accept an enormous variety of toppings and sauces. Chances are, if you can dream it up, it's going to be filling and delicious. Here the lightly scorched spinach pairs well with the bright and sweet mini peppers." —Mallmann
1. First make the polenta. Line a 9-by-13-inch (23-by-33-centimeter) sheet pan with plastic wrap. Combine the stock, water, and olive oil in a pot and set over medium-high heat. Stir in the polenta, bring to a boil, and cook, stirring frequently, until the polenta is thick enough to hold its shape, about 15 minutes. Season to taste with salt and pepper. Remove from the heat and beat in the butter a few pieces at a time with a wooden spoon, then add the Parmesan. Spread the polenta onto the prepared sheet pan, cover the surface with plastic wrap, and pat it down flat. Refrigerate for about 1 hour until firm, or up to a day ahead of time. When ready to cook, unmold the polenta and cut into 12 pieces.
2. Prepare a fire for high heat and warm the plancha. If cooking indoors, heat a large cast-iron griddle over high heat. Brush the hot plancha or griddle with olive oil. When the oil shimmers, add the polenta slices about an inch (2.5 centimeters) apart. Cook until nicely browned, about 2 minutes on each side. Transfer them to a large serving platter as they are done.
3. Wipe off the plancha or griddle and brush it with oil again. When it just starts to smoke, use tongs to spread the spinach out over the whole surface. The spinach should start to wilt and brown on the bottom—cook it on one side just long enough for the stems to soften. Using tongs, transfer the half-cooked spinach to a serving platter and drizzle with the lemon juice. Scatter the sliced chiles over it, sprinkle with fleur de sel, and serve immediately.
Excerpted from Green Fire by Francis Mallmann (Artisan Books). Copyright © 2022.
Originally featured in Plant-Forward Grilling Recipes from Francis Mallmann's Green Fire