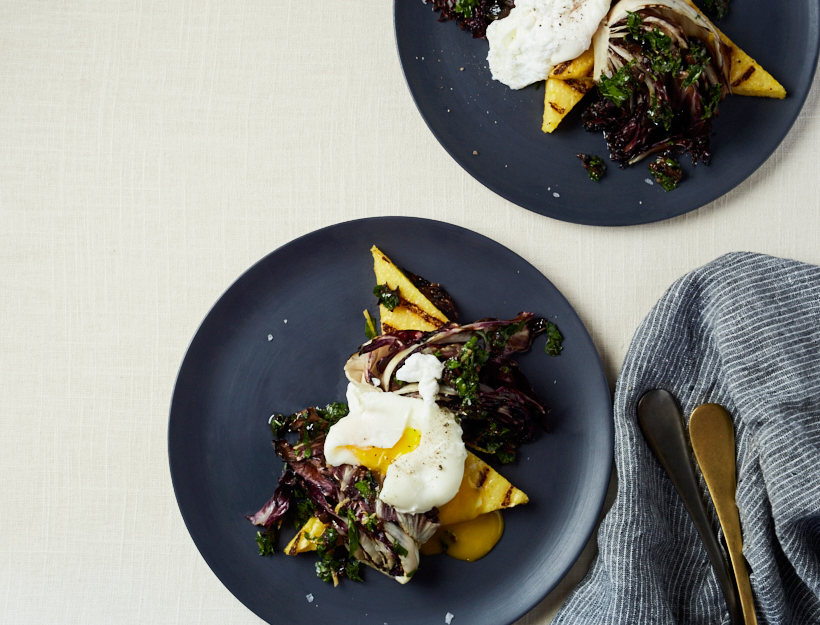 Grilled Polenta and Radicchio with a Poached Egg
This dish is elegant enough for company, but easy enough to throw together at a moment's notice. The bitterness of the radicchio is mellowed out after a quick char on the grill, and the salty olives and rich poached egg really round the flavors out on this anytime-of-day (aka "highly brunch-able") meal.
1. Lightly oil a small baking dish. (This is what the polenta will set up in.)
2. Bring 3 cups of water to a boil in a sauce pan. Quickly stir in the polenta. Let it cook for about 5-8 minutes, until thick. Transfer it to the baking dish, smooth over the top and cover with plastic wrap. Set aside until firm.
3. To make the radicchio salad, start by preheating a grill pan over medium high heat. Then rub about 1 tablespoon or so of olive oil all over the radicchio wedges. Sprinkle with salt. When the grill is ready add the radicchio, cooking them for about 2 minutes each side, so that the lettuce wilts and gets a little charred. Transfer them to a bowl and set aside.
4. Next grill the polenta. Cut the polenta into squares, then into triangles. Brush each side with about a tablespoon of olive oil. Grill them for about 5 minutes each side, or until you get nice grill marks.
5. While the polenta is grilling, prepare the salsa verde dressing. Mix the olives, anchovy, parsley, lemon zest and juice and remaining olive oil in a bowl. Season with salt and pepper to taste. Combine this with the still-warm radicchio.
6. Last thing to do is poach your egg.
7. To assemble, place your grilled polenta wedges down first, then top with a wedge of radicchio salad, and finish with a poached egg on top.