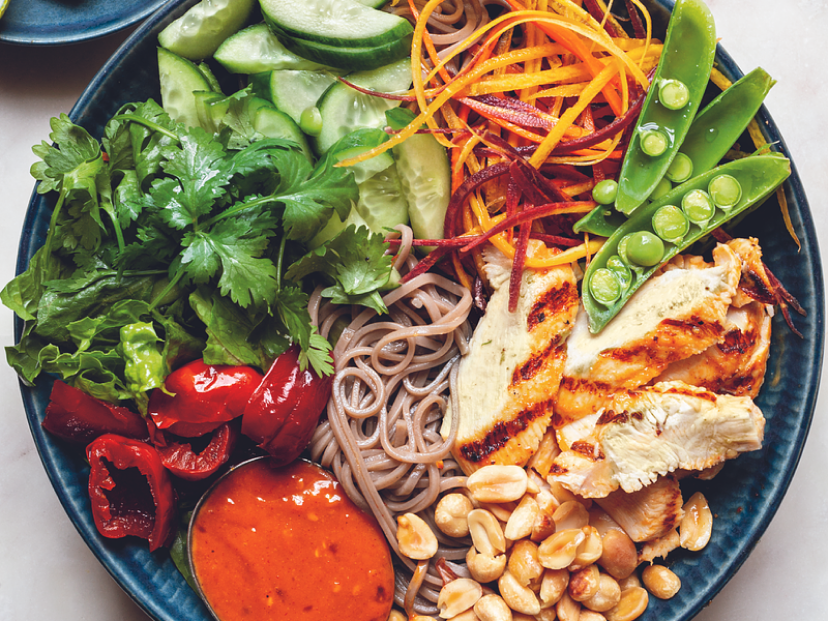 Grilled Peanut Chicken Noodle Bowls
You'd most likely associate peanut sauce with Southeast Asian cuisine, with one of the most popular variations being Indonesian satay sauce. Here, I combine creamy peanut butter with my Everyday Gochujang Sauce for a Korean-inspired twist on satay sauce that I use both to season the chicken and as a dressing for the noodles and crunchy vegetables in this speedy recipe.
Though I'm not usually too big on boneless skinless chicken breasts, halving them into cutlets shortens the cooking time significantly and keeps them juicy. If you're pressed for time, there's no shame in serving up shredded rotisserie chicken breast tossed in two tablespoons of the sauce instead of cooking from scratch or using preshredded carrots to avoid any peeling or grating. Those matchstick carrots are more visually striking anyways!
1. In a small bowl, combine the gochujang sauce, peanut butter, and water and stir until smooth. Add more water to thin the sauce out to your desired consistency, if needed.
2. Bring a medium saucepan of water to a boil. Add the soba noodles and cook according to the package instructions. Drain and rinse under cold running water until completely cool, then transfer to a large bowl.
3. Meanwhile, in a large grill pan or skillet, heat the avocado oil over medium-high heat. Season the chicken with the salt and pepper and toss with 1 tablespoon of the peanut sauce. Transfer the chicken to the grill pan and cook until grill marks appear on the bottom, about 2½ minutes. Flip the chicken and cook until cooked through, about 2 minutes more. Transfer to a cutting board and let rest for 5 minutes, then chop into bite-size pieces.
4. Divide the noodles, lettuce, cucumbers, carrot, Peppadews, green onions, cilantro, peanuts, and chicken among bowls. Drizzle each bowl with a few tablespoons of the remaining peanut sauce and serve with the lime wedges, if desired.
To make the Everyday Gochujang Sauce:
1. In a glass jar, stir together the gochujang, vinegar, maple syrup, garlic, soy sauce, and sesame seeds until fully incorporated and smooth. Use right away or cover and refrigerate for up to 5 days.
Excerpted from South of Somewhere. Copyright © 2023, Dale Gray. Photography copyright © 2023 by Dale Gray. Reproduced by permission of Simon Element, an imprint of Simon & Schuster. All rights reserved.
Originally featured in Quick Recipes for Flavor-Packed Dinner Bowls