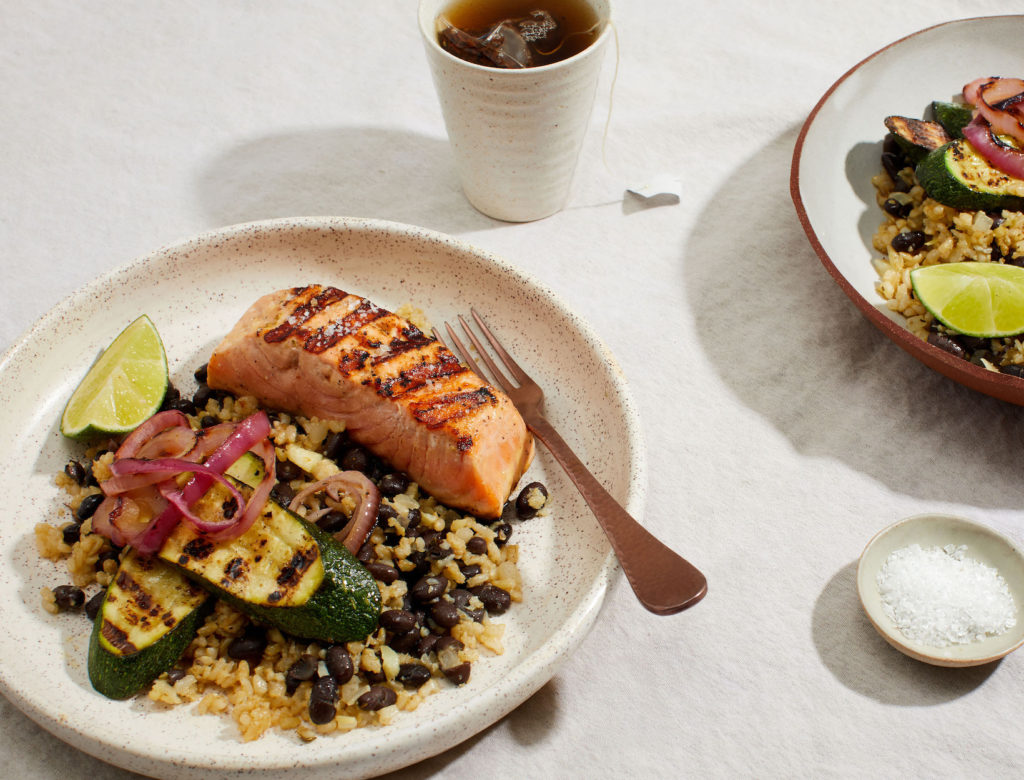 Grilled Mojo Salmon and Veggies with Black Beans and Brown-Cauli Rice Blend
Cuban mojo marinade is salty, a little sweet, super tangy, and savory all at once. We use it here to marinate both the salmon and veggies, but it will be in our rotation year-round—it's great on chicken and shrimp, too.
2 (6-ounce) salmon fillets
1 zucchini, cut on the bias into 4 thick slices
½ red onion, cut into ¾-inch-thick rounds
For the mojo marinade:
6 cloves garlic
¼ cup extra virgin olive oil
1 teaspoon salt
⅓ cup orange juice
⅓ cup lime juice
½ teaspoon Mexican oregano
For the rice and beans:
extra virgin olive oil
½ yellow onion, diced
2 cloves garlic, minced
¼ teaspoon ground cumin
¼ teaspoon Mexican oregano
1 (16-ounce) can black beans
½ cup cooked brown sushi rice
½ cup frozen cauliflower rice
1. First make the marinade. Combine all the ingredients in a blender. Place the salmon and veggies in a reusable bag along with the marinade and let sit for at least 30 minutes and up to 6 hours.
2. To make the rice and beans, pour a couple tablespoons of olive oil into a nonstick frying pan over medium-low heat. Add the onion, garlic, cumin, and oregano. Cook for a few minutes until the onions begin to turn translucent and fragrant. Then add the beans and cook for about 15 minutes, until the flavors meld.
3. Preheat a grill pan over medium-high heat and brush it with additional olive oil. Grill the marinated salmon and veggies for about 5 to 8 minutes on each side, until the vegetables are tender and charred and the salmons flakes easily.
4. Add the cooked rice and frozen cauliflower rice to the bean mixture. Sauté for another 5 to 10 minutes to heat the cauliflower rice through.
5. Serve the vegetables and salmon alongside the rice and beans mixture.
Originally featured in The Annual New Year Detox: 2022 Edition