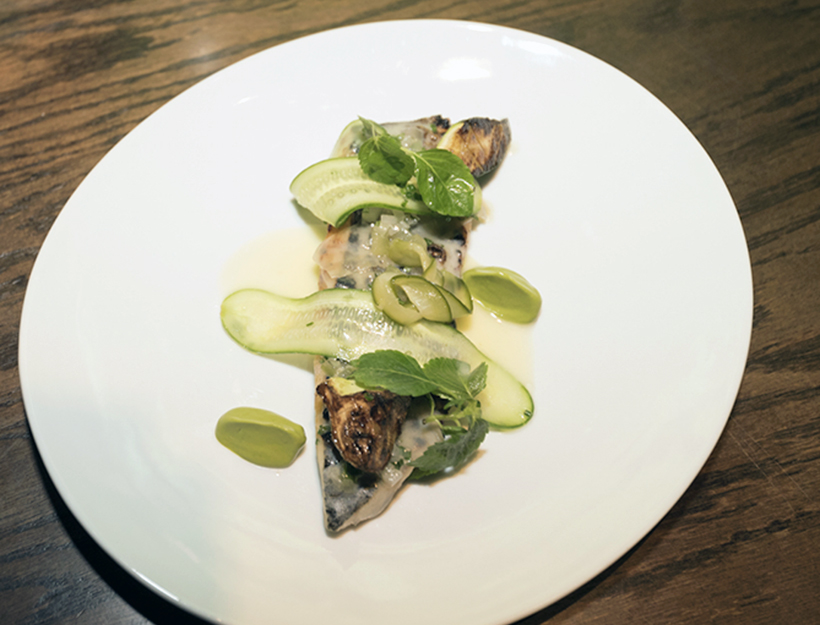 The crunch of pickled cucumbers and crispy fish skin add great texture to this light and satisfying fish dish. If you can't find loup de mer, use whatever mild white fish is fresh and in season.
1. Season the fish fillets with salt and arrange on a wire rack over a baking sheet. Store in the fridge until ready to use.
2. To make the pickled cucumbers, bring the vinegar, water, sugar and salt to a boil in a medium saucepan. Cool to room temperature, then chill in the fridge. Use a mandolin to thinly slice the cucumbers, then pour over the pickling liquid.
3. To make the melon butter, heat half of the honeydew juice in a medium saucepan over medium heat. Slowly whisk in the cold butter, on piece at a time, until it is all incorporated. Be careful to maintain a gentle heat the entire time to ensure that the mixture doesn't separate.
4. Add the basil to the melon/butter sauce and leave to infuse for 10 minutes. Remove the basil, add lime juice, and season with salt to taste.
5. To finish the dish, heat a small amount of olive oil in a sauté pan over medium high heat. Add squash, season with salt, and cook until golden and tender.
6. While the squash is cooking, heat a grill or grill pan over medium heat. Add the fish fillets skin side down and cook until skin is nice and crispy. Flip and cook the fish on the second side for 1 minute (this should take 4-6 minutes total).
7. Place 2 slices of lardo on the skin side of each fish fillet and garnish with squash, pickled cucumber slices, and melon butter.
Originally featured in DIY Boka's Cheesy Pasta (and More) at Home