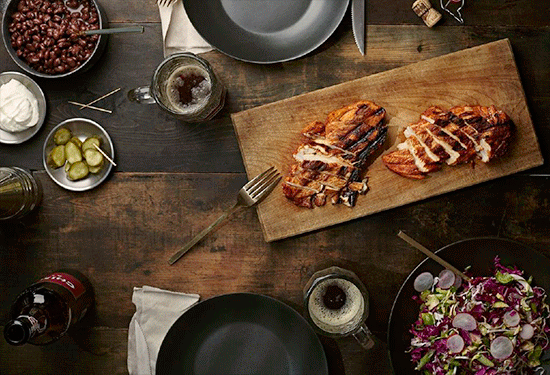 Grilled Jerk Breasts with Slaw
This is our spin on jerk, which makes for a cozy colder-weather BBQ.
1. Combine the pimenton, honey, soy sauce, thyme, cayenne pepper, and cinnamon in a large mixing bowl. Whisk together with a fork while slowly drizzling in the olive oil. Season with salt and pepper. Add the chicken and rub the marinade evenly over the meat with your hands. Refrigerate for an hour to overnight, making sure to remove from the fridge 15 to 20 minutes before grilling to bring the chicken back to room temperature.
2. Meanwhile, make your slaw. Combine the Brussels sprouts, cabbages, scallions, and parsley in a large bowl. In a separate small mixing bowl add the lemon juice, white balsamic vinegar, and Dijon and slowly whisk together while drizzling in olive oil. Season with salt and pepper. Pour the dressing over the slaw and mix to combine.
3. Heat a grill pan over medium-high heat. (It's best to use a grill pan with a weighted handle to press down the breasts while they are cooking—this creates a nicely charred exterior.) Drizzle about a tablespoon of olive oil into the pan. When the pan is hot, add the breasts to the pan and cover with handle. Grill for about five minutes on each side until cooked through. Serve with the coleslaw and any other sides you like (we like ours with black beans, yogurt, pickles, and beer).
Photography by V.K. Rees.
Originally featured in One Bird, Three Ways