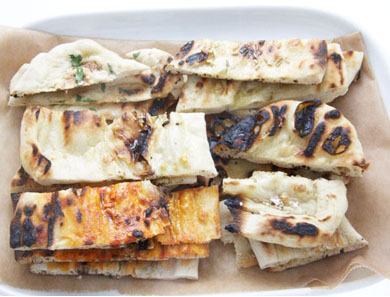 Grilled Homemade Flatbreads
I thought a chewy, flavored flatbread would go fantastically with this meal. I made them with six different toppings and they were all amazing, but you can tailor them to your t
astes. The lesson with this dish is that you can do whatever you want.
Note: The dough recipe comes from a Bill Granger piece that appeared in Bon Appétit.
Flatbread:
1 1/4 cups warm water
1 teaspoon active dry yeast
3 cups flour, plus more for kneading and rolling out
2 teaspoons coarse salt
2 tablespoons olive oil, plus more for the bowl
Toppings (Variable):
olive oil
coarse salt
sesame seeds
roughly chopped fresh cilantro
pimentón
olive oil heated with a clove of minced garlic
crushed, toasted fennel seeds
whatever ingredient you want!
FOR THE FLATBREAD:
1. Combine the water and yeast in a small bowl and let sit for 10 minutes or until the yeast dissolves.
2. Meanwhile, whisk the flour and salt together in a large bowl. Add the yeast mixture and two tablespoons of olive oil to the flour and stir together with a wooden spoon – the dough will be sticky and wet. Turn the dough out onto a floured surface and knead for six minutes or until smooth and quite elastic, incorporating extra flour as needed.
3. Oil a large bowl (about a tablespoon of olive oil should do) and place the dough in it, turning to coat. Cover with cling film and let it sit in a warm spot until it's doubled in size, about 1 1/2 hours.
4. Preheat your grill to medium-high. Divide the dough into 6 pieces and roll each out until it's quite thin (about 1/8″) on a floured surface. Grill the flatbreads for about 1 1/2 minutes on each side or until cooked through and slightly charred in spots.
TO FINISH:
As each flatbread comes off the grill, you'll want to brush it generously with olive oil and top it either simply with salt or get a bit creative by sprinkling with sesame seeds, brushing with garlic-infused oil and tossing some chopped cilantro or another fresh herb on top, or heating a few spoonfuls of olive oil with a bit of smoky pimentón and brushing the richly colored oil generously on the bread and finishing with a few flakes of coarse salt…you get the idea.
Originally featured in At Mario Batali's For Dinner