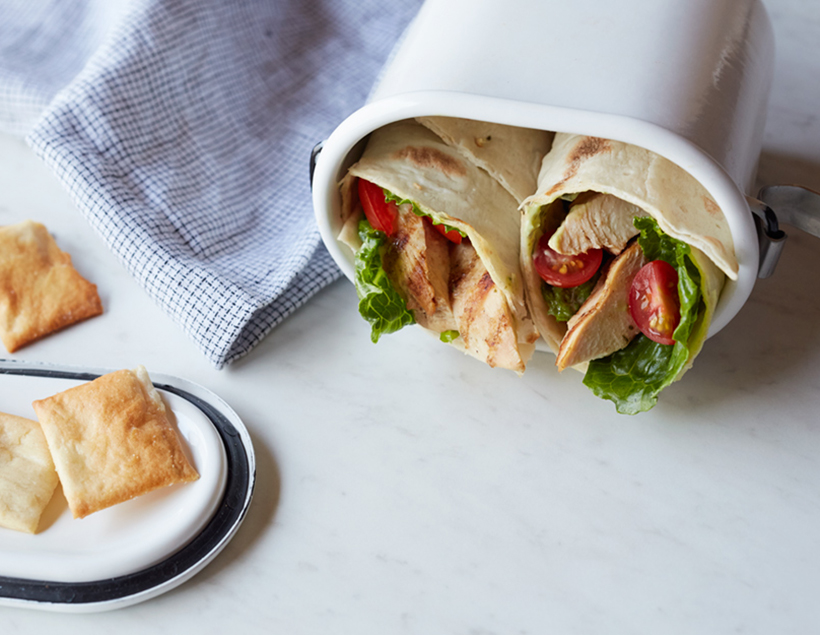 Grilled Chicken Wrap with Basil Mayo
Simple, fresh and satisfying. What more could you want from a packed lunch? This recipe makes extra basil mayo, but it's great in a basil dressing for a tuna chopped salad or as a spread for any sandwich or wrap.
for the chicken:
1 chicken cutlet (about ⅓ pound)
zest and juice of ½ lemon
2 tablespoons olive oil
1 large pinch salt
1 small clove garlic, grated on a microplane or finely minced
for the basil mayo:
½ cup vegenaise
1 very small clove garlic, minced
¼ cup tightly packed basil leaves
1 tablespoon olive oil
1 teaspoon water
salt and pepper to taste
for the wrap:
1 lavash wrap (or your favorite wrap)
2 leaves romaine lettuce
5 cherry tomatoes, cut in half
1. First, marinate the chicken. Combine all the chicken ingredients in a bowl and mix to combine. Marinate for 10 minutes at room temperature or up to 2 days in the fridge.
2. To make the mayonnaise, combine the vegenaise, garlic, basil leaves, olive oil, and water in a powerful blender. Blend until mostly smooth (some bits of basil leaf are okay), then season to taste with salt and pepper. Store in the fridge until ready to use.
3. When ready, heat a grill pan over medium-high heat. Add the chicken cutlet and cook, flipping halfway through, until you see nice grill marks and the meat is firm to the touch (about 5 minutes). Remove the chicken to a plate or cutting board to cool, then slice into roughly 1×4-inch pieces.
4. To assemble the wrap, lay the lavash on a cutting board and spread about 2 tablespoons of the basil mayo across the middle.
5. Place the romaine leaves down the center of the wrap and arrange the chicken pieces on top.
6. Top with cherry tomato halves, sprinkle each piece of tomato with a little salt, and roll up the lavash.
7. Eat immediately or wrap in wax paper and store in the fridge until ready.
Originally featured in Easy, Packable Work Lunches