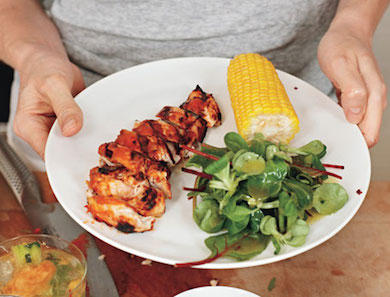 Grilled Chicken with Peach BBQ Sauce
Gwyneth prepares one batch of this barbecue sauce with adobo for the adults and finishes another with soy sauce for the kids.
1 cup chopped peeled fresh peaches or 9-10 ounces frozen sliced peaches, thawed, chopped
1/2 cup ketchup
2 tablespoons fresh lemon juice
2 garlic cloves, minced
1 1/2 teaspoons adobo sauce from canned chipotle chiles in adobo or 1 teaspoon soy sauce
kosher salt & freshly ground black pepper
4 skinless, boneless organic chicken breasts
vegetable oil
1. Combine first 5 ingredients in a small saucepan. Season lightly with salt and pepper and bring to a boil over high heat. Reduce heat to low; simmer until peaches are very soft and flavors meld, about 10 minutes. Remove pan from heat; let cool.
2. Pour peach mixture into a blender and purée until smooth. Season to taste with salt and pepper.
3. Place half the sauce in a medium bowl; add the chicken and turn to coat. Let marinate at room temperature for 20 minutes, or cover and chill for up to 8 hours, turning occasionally. Cover and refrigerate remaining sauce.
4. Prepare a grill to medium-high heat. Brush grill rack with oil. Grill chicken until browned and almost cooked through, 4-5 minutes per side. Brush on all sides with reserved sauce; grill until glazed and cooked through, 1-2 minutes per side.
5. Slice crosswise. Serve remaining sauce alongside.
Originally published on Bon Appetit.