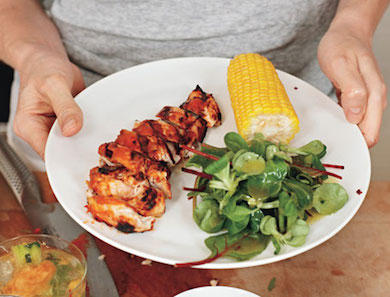 Grilled Chicken with Peach BBQ Sauce
Gwyneth prepares one batch of this BBQ sauce with adobo for the adults and finishes another with soy sauce for the kids.
1. Combine the first 5 ingredients in a small saucepan. Season lightly with salt and pepper and bring to a boil over high heat. Reduce heat to low; simmer until peaches are very soft and flavors meld, about 10 minutes. Remove pan from heat and let cool.
2. Pour the peach mixture into a blender and purée until smooth. Season to taste with salt and pepper.
3. Place half the sauce in a medium bowl, add the chicken, and turn to coat. Let marinate at room temperature for 20 minutes, or cover and chill for up to 8 hours, turning occasionally. Cover and refrigerate remaining sauce.
4. Prepare a grill to medium-high heat. Brush the grill rack with oil. Grill the chicken until browned and almost cooked through, 4 to 5 minutes per side. Brush on all sides with reserved sauce and grill until glazed and cooked through, 1 to 2 minutes per side.
5. Slice crosswise. Serve remaining sauce alongside.
Originally published on Bon Appétit.