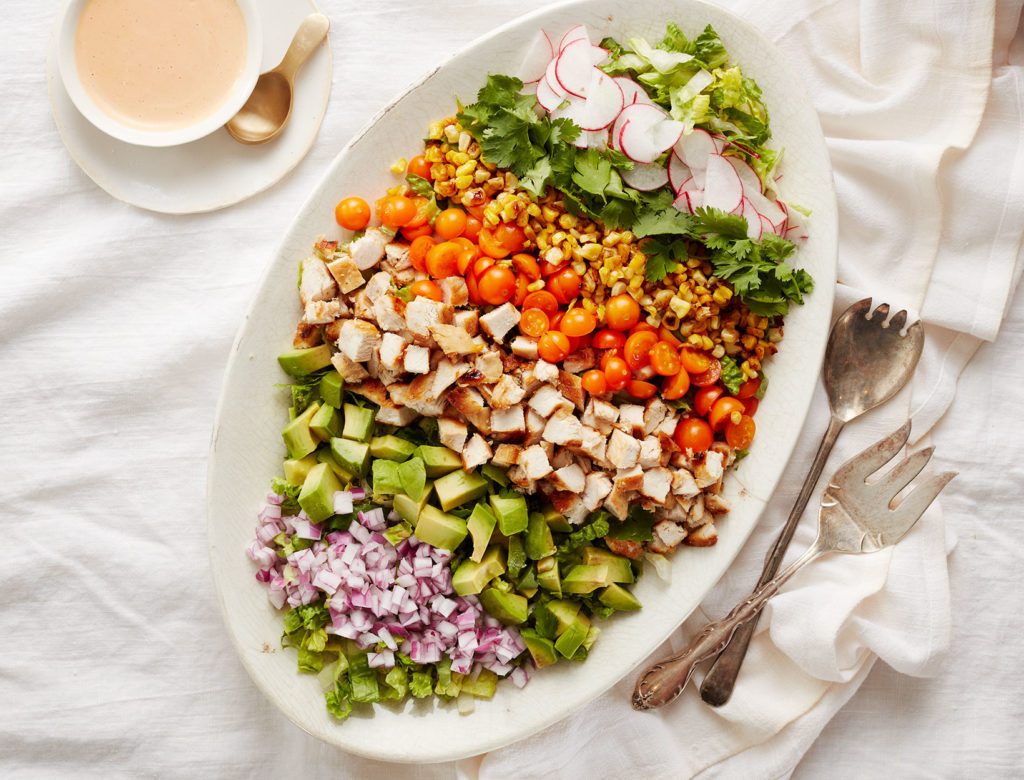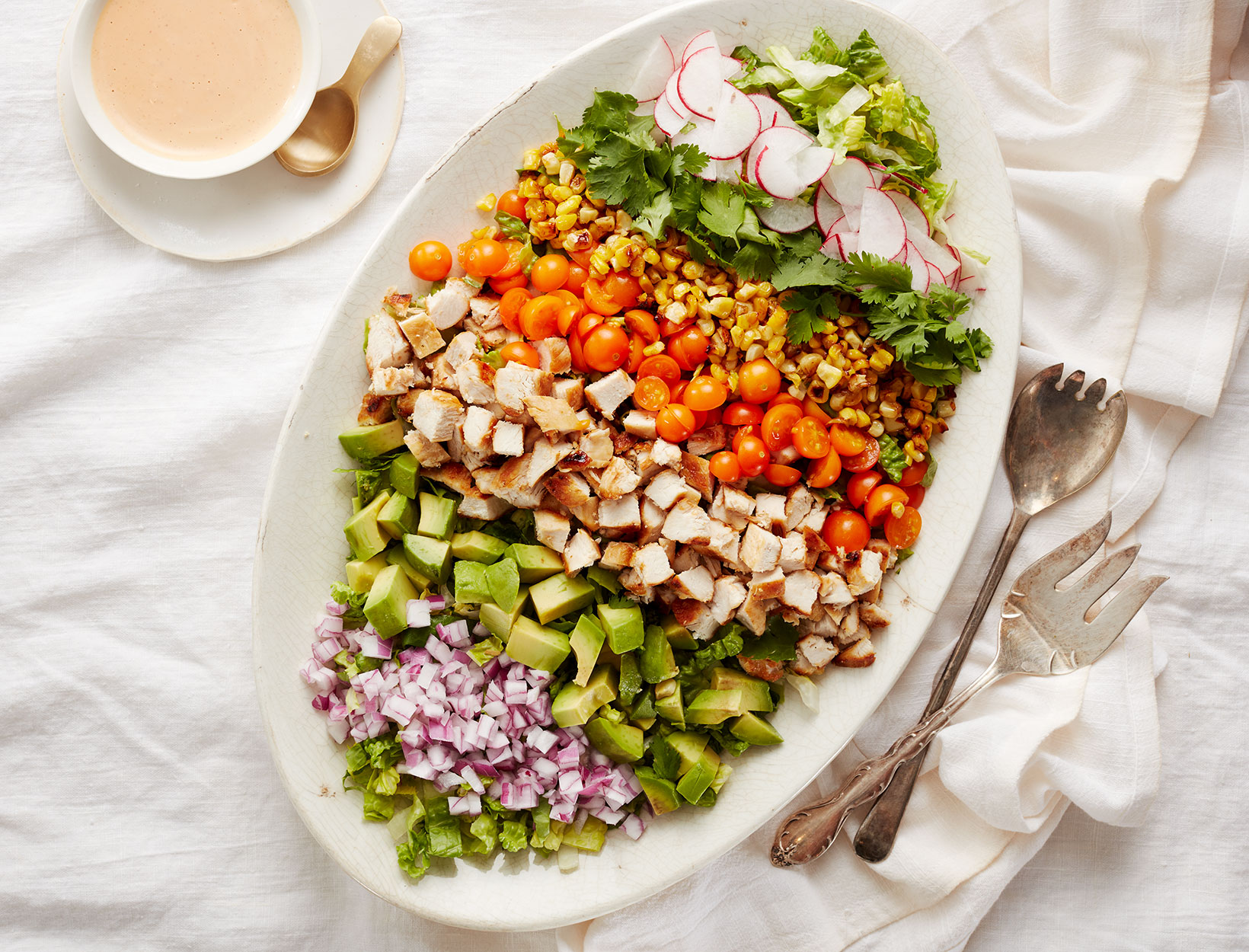 Grilled Chicken and Corn Salad with Chipotle Cashew Dressing
Our take on a classic Southwest-style salad delivers a ton of flavor with hardly any effort. Because the cashew dressing is rich, spicy, and slightly sweet, we kept the rest of the salad simple with fresh raw veggies, grilled corn, and chicken seasoned with just a little salt and olive oil. It's got a good amount of texture as is, but topping it with a crushed handful of your favorite corn or grain-free chips would definitely up the crunch factor.
For the dressing:
1 cup raw cashews
1 clove garlic
1 chipotle pepper in adobo sauce (deseeded if you prefer less spice)
2 teaspoons adobo sauce
1 teaspoon honey
2 tablespoons apple cider vinegar
¾ teaspoon kosher salt
¾ cup water
for the salad:
2 ears corn
1 pound chicken cutlets
olive oil
kosher salt
2 heads romaine, chopped
1 pint cherry tomatoes, halved
2 avocados, chopped
¼ medium red onion, diced (about ¼ cup)
3 or 4 radishes, thinly sliced into half-moons
1 cup roughly chopped cilantro
optional:
crushed corn chips or grain-free chips (GP's favorite Siete Grain-Free Fuego chips would be great here)
1. First prepare the cashews for the dressing. You can either cover them with water and leave out overnight or cover them with boiling water and let sit for about 30 minutes. Once soaked, drain off the liquid and add the cashews to a powerful blender. Add the rest of the dressing ingredients except for the water. Start the blender on low, and as the mixture thickens, gently pour in the water about ¼ cup at a time, as needed. Slowly turn up the power until it's blending on high. You might need to stop occasionally to push down bits that collect along the sides—it's also a good chance to assess the texture: You might decide you don't need all the water or that you'll need more. Once it's super creamy and smooth, taste again for seasoning and adjust as needed. Set aside until ready to dress the salad.
2. Next grill the chicken and corn. Preheat your gas or charcoal grill or a grill pan over medium-high heat. Drizzle olive oil over the chicken cutlets and the corn cobs and salt liberally. The corn needs only a few minutes on each side, until some char develops. And the chicken cutlets should take about 5 minutes per side. You can check to see that the juices are running clear and the internal temperature is 165°F (or you can pull it at 155°F, knowing that as it rests, it will continue to cook, pushing it up that last 10 degrees). Let the chicken rest for 5 to 10 minutes. While it rests, cut the corn kernels off the cob and set aside. Once the chicken has rested, cut it into bite-size pieces.
3. To assemble the salad, lay the chopped romaine as a base on a platter. Arrange the chicken and corn in the center and surround them with layers of tomatoes, radishes, avocados, red onions, and cilantro. Drizzle with dressing when ready to serve.
Originally featured in 3 Dinner-Worthy Salads