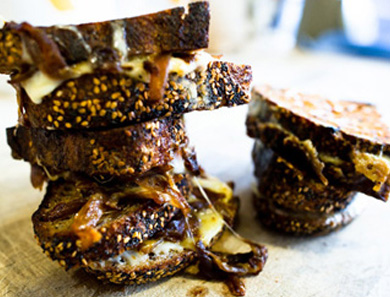 Taking grilled cheese up like a thousand notches, with the sweet caramelized onions melting into the rich cheese, these are dangerous.
1. Caramelize onions: peel and slice onions thinly. Heat olive oil and sauté onions with bay leaf until soft and deeply caramelized, about 15 minutes, stirring every few minutes. Pull the leaves off the sprig of thyme and mix in. Season with salt and pepper to taste.
2. Spread the onions on one slice of bread, top with cheese and a second slice of bread. Butter the outside of the sandwiches and fry in a skillet until the cheese melts and the outside is golden brown.
Contributed by Chad Roberston, author of Tartine Bread.
Originally featured in Tartine