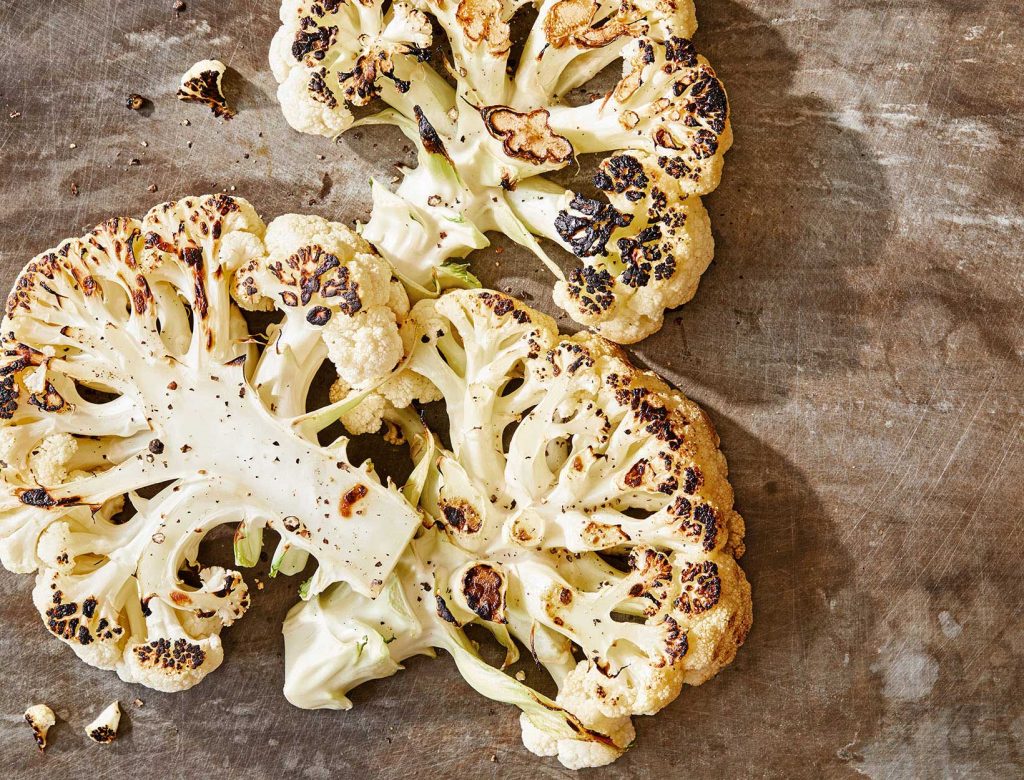 Grilled Cauliflower Steaks
Cauliflower steaks are the most pleasing crowd-pleaser for good reason. They're hearty, with an assertive savory flavor and satisfying texture. Cauliflower is great roasted, but it really shines when grilled. Slather this with our cleaned-up Tamarind BBQ Sauce and serve with rice, beans, and mango salsa.
1. First, preheat your grill. You'll need a hotter zone and a slightly cooler zone, so whether you're using a gas or charcoal grill, make sure you have 2 separate temperature zones.
2. Prep the cauliflower: Slice it in half through the crown, with the base set on the cutting board. Cut each half into ¾-inch thick steaks. (You can usually get 2 nice-size cauliflower steaks per head.) Generously rub the steaks with olive oil on both sides and season with a liberal pinch of salt.
3. Place the cauliflower steaks on the hotter part of the grill and cook for 7 to 10 minutes on each side. The florets should be tender with a nice char on them, and the stalks should be firm but still somewhat softened and not raw. If you find your steaks need a little more time after cooking on each side, move them to the lower-temperature side of the grill to finish cooking for another 5 minutes.
4. Sprinkle with a little more salt and a squeeze of lime (if desired).
Originally featured in The Ultimate Plant-Based Summer BBQ