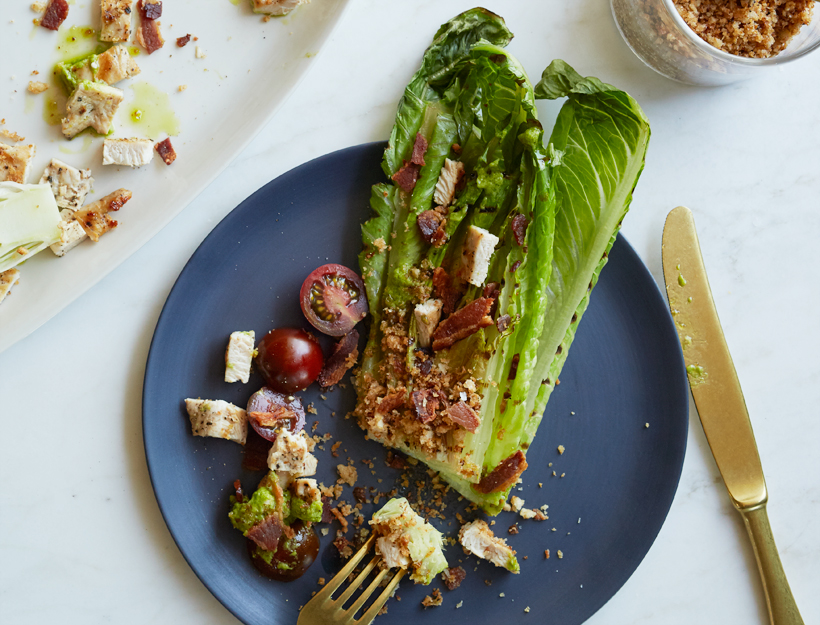 Who doesn't love a BLT, especially when it includes avocado? This, our hearty salad version of the classic sandwich, makes a really satisfying dinner or postworkout lunch. Plus, the dressing is killer—really delicious spread on sandwiches or used as a dip for crudités.
1. Preheat the oven to 400°F.
2. Place thebacon slices on a parchment-lined baking sheet and roast in the oven for 10 minutes, or until crispy. Transfer to a paper-towel-lined plate to cool.
3. Heat a grill pan over medium-high heat and season each chicken paillard with a little olive oil and some salt and pepper. Grill for 3 minutes on each side, or until very firm to the touch. Remove to a plate or cutting board to cool before dicing.
4. To make the dressing, combine the first 6 ingredients in a powerful blender and blitz until smooth. Season to taste with salt and pepper.
5. To finish the salad, toss the romaine halves in a little olive oil and season the cut sides with salt and pepper.
6. Heat the grill pan over medium-high heat and cook the lettuce, cut side down, for about 2 minutes (you want the lettuce to get a little char but still retain some crunch). Place 2 romaine halves on each serving plate and top with diced chicken, cherry tomatoes, and crumbled (or chopped) bacon. Pour on some of the dressing and sprinkle with the toasted bread crumbs for crunch.
7. Serve with extra dressing on the side.
Originally featured in A Week of Salads