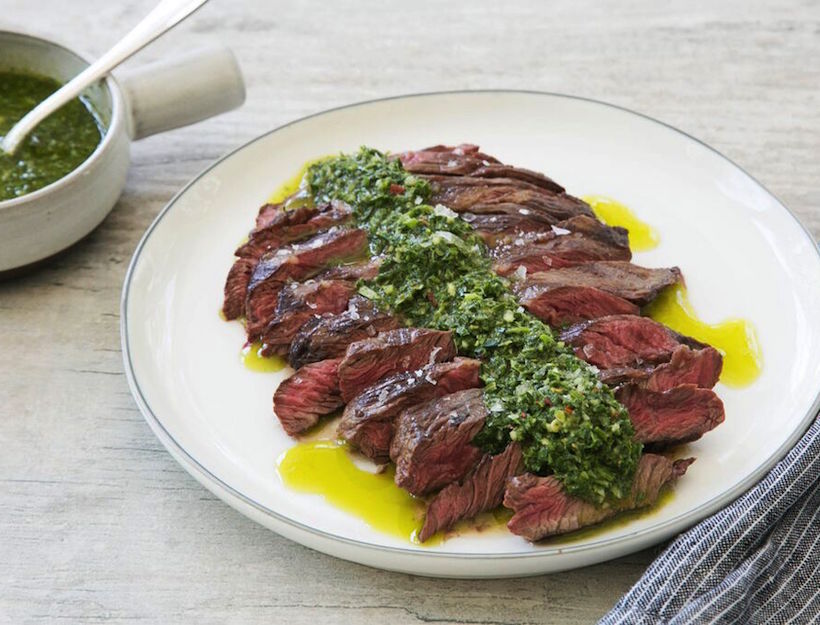 Grilled Bavette or Hanger Steak with Uruguayan Chimichurri
Skirt steak has gotten extremely popular in recent years, but bavette and hanger, if you can find them, are equally (if not more) delicious. They also tend to be less expensive. Because leaner cuts like this can be chewy if not cooked properly, be sure not to overcook, and slice against the grain. Oh, and don't forget the chimichurri—with tons of fresh herbs and a good hit of sherry vinegar, it adds great zing.
for the steak:
2 pounds bavette steak
salt
pepper
olive oil
for the traditional Uruguayan chimichurri:
1½ cups packed fresh parsley leaves
4 cloves garlic, coarsely chopped
2 tablespoons packed fresh oregano leaves
1½ tablespoons packed fresh rosemary leaves
1 tablespoon packed fresh thyme leaves
1 fresh bay leaf
1 teaspoon red pepper flakes
¾ cup extra virgin olive oil
⅓ cup sherry vinegar
kosher salt
freshly ground black pepper
1. To make the chimichurri, combine the parsley, garlic, oregano, rosemary, thyme, bay leaf, and red pepper flakes in a food processor. Pulse until the herbs are finely chopped. Add the olive oil and vinegar and pulse to combine. Season the chimichurri to taste with salt and pepper and transfer to a bowl. Let stand for at least 1 hour before serving. The sauce will keep, refrigerated, for up to 2 days; let it come to room temperature before serving.
2. Take the steak out of the fridge, season generously with salt and pepper, and let sit at room temperature while you prepare the coals.
3. Light charcoal (we highly recommend a chimney) 20 to 30 minutes before you want to start cooking.
4. When ready to grill, coat the steak in a little bit of olive oil, place on the hot side of the grill, and cook for about 3 minutes per side.
5. Remove, let rest for 2 minutes, then slice against the grain and serve with chimichurri sauce.