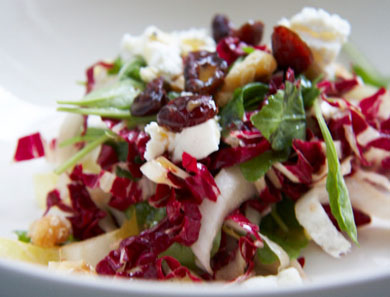 Greens with Goat Cheese, Walnuts & Dried Cranberries
Endive, arugula and radicchio are a great combination and easy to get all winter long, while the maple syrup balances the bitterness.
3 small cloves garlic, pushed through a press
2 1/2 teaspoons dijon mustard
2 tablespoons real vermont maple syrup
1/3 red wine vinegar
1 cup extra virgin olive oil
coarse sea salt
freshly ground black pepper
2 1/2 large heads of endive, washed, chopped
1 1/3 large head radicchio, washed, chopped
4 large handfuls arugula, washed
1 1/3 cup goat cheese
3/4 cup walnuts, broken into pieces
3/4 cup dried cranberries
1. In a small bowl, whisk together the garlic, Dijon, maple syrup and vinegar. While whisking, slowly drizzle in the olive oil. Season the dressing to taste with salt and pepper.
2. Combine the greens in a large salad bowl. Dress with about two thirds of the dressing.
3. Divide the greens on eight plates and scatter over the goat cheese, walnuts and dried cranberries over the greens. Drizzle each salad with a bit of the leftover dressing.
Originally featured in Thanksgiving Recipes