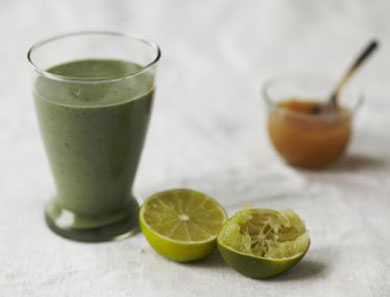 Greeno Mojito Smoothie
Subtly exotic and packed with nutrients, this is a great way to kick off a day.
1 Recharge packet or about 3 tbsp whey protein with about 1 tbsp of a greens powder mix made with organic fruits and vegetables and alkalizing grass juices
small piece of avocado – about 1/5 of a large avocado or 1⁄4 of a small one
1 teaspoon vanilla extract
1/4 cup fresh mint leaves
Juice of one lime
1 cup filtered water
3-4 ice cubes
sweeten to taste with either raw honey, xylitol or stevia
Blend in a blender until smooth and creamy. For a less thick shake, just add a bit more water.
Originally featured in A Better Breakfast