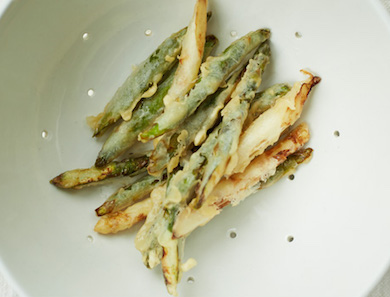 Green & White Asparagus Tempura
There's something about an airy, crispy asparagus tempura that's so good. We use rice flour to give it that extra lightness and to keep this dish gluten-free.
1. If you have a deep fryer, set it to 375° F. If you don't, add vegetable oil to a large pot (should come up about 4-6 inches) and heat to the same temperature.
2. Meanwhile, combine ponzu ingredients together in a small serving bowl. Set aside.
3. Place rice flour in a medium mixing bowl. Slowly incorporate the sparkling water into the flour while mixing. Mix just until smooth. (You want to make this batter right before you intend to use it.)
4. Dip the asparagus in the batter to coat. Fry, in batches if necessary, for about two minutes, until crisp and golden. Drain on paper towels and season lightly with sea salt. Serve immediately with lemon wedges and homemade ponzu.
Originally featured in First Spring Harvest