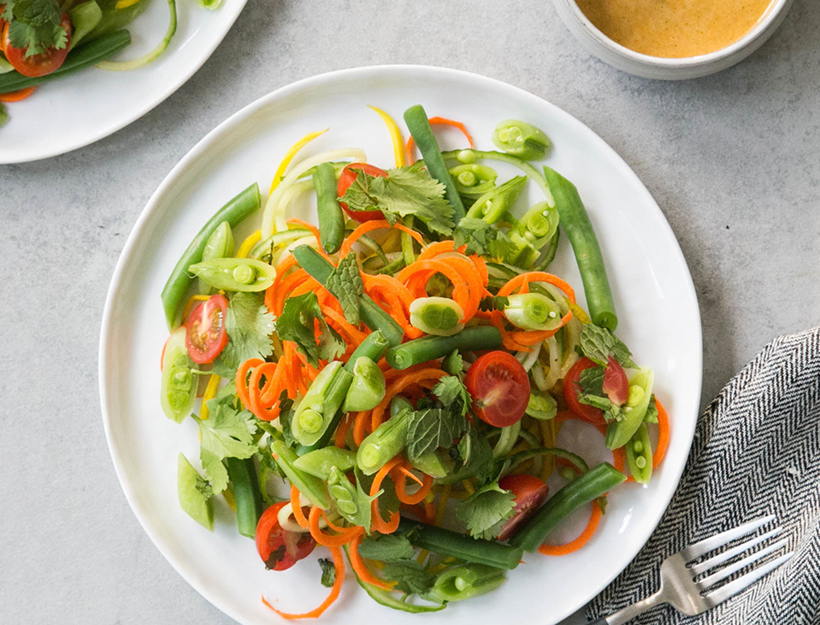 Green Papaya-Style Salad
This Thai-inspired salad makes a perfect side for sautéed noodles or roasted salmon. Don't skimp on the fresh herbs—they really pull the dish together.
For the salad:
12 blanched green beans
1 handful raw snap peas, cleaned and cut into ½ inch slices
large handful each mint, basil and cilantro leaves, roughly chopped
1 medium yellow beet, peeled and spiralized
½ English cucumber, spiralized
1 large carrot, spiralized
8 cherry tomatoes, cut in half
1 red bell pepper, julienned
For the dressing:
1 ½ tablespoons finely chopped ginger
1 small garlic clove, sliced
zest and juice of 1 lime
2 tablespoons soy sauce
2 teaspoons maple syrup
12 sprigs cilantro, roughly chopped
1 medium shallot, roughly chopped (about ¼ cup)
1 red jalapeno, ribs and seeds removed and roughly chopped
pinch of salt
pinch of pepper
1/3 cup olive oil
1. To make the dressing, combine all ingredients in a powerful blender and blend for one minute, or until smooth.
2. To serve, toss all salad ingredients together and drizzle over half of the dressing. Serve with extra dressing on the side.
Originally featured in Screw Everything