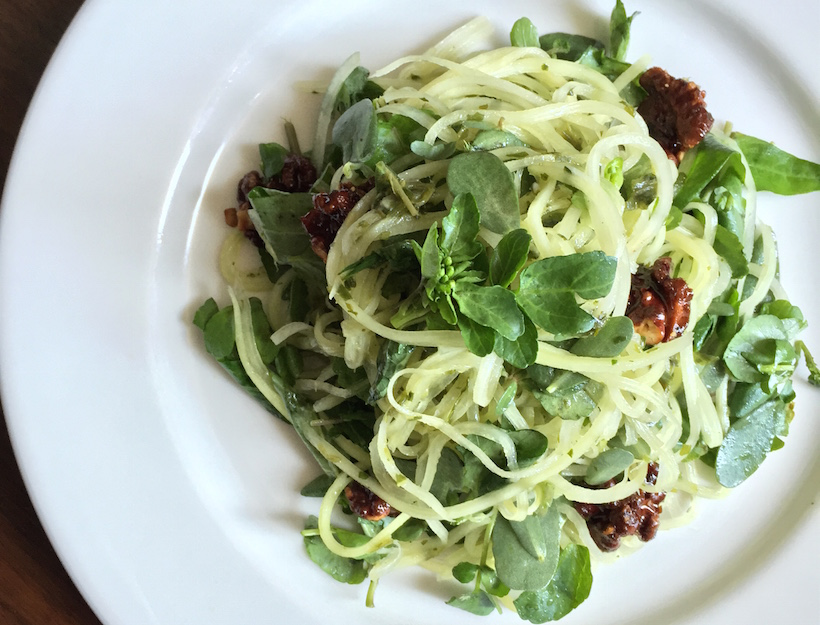 Green Papaya Salad
"While visiting family in Vietnam we had, on a number of occasions, salads made with green papaya. Green papaya has a great crunch and really absorbs the flavors surrounding it, making for a perfect salad component. What I love about this particular salad is that it's refreshing, light, and balanced thanks to the fresh herbs and peppery watercress. The spiced walnuts are addictive and great to eat on their own, but lend a nice, spicy crunch to the salad. Add some cooked chicken, beef, fish, or shrimp to make it a meal."
for the herb vinaigrette:
1 minced garlic clove
½ cup fresh lime juice
1 bunch mint, roughly chopped
1 bunch scallions, roughly chopped
¼ cup honey
1/3 cup canola oil
for the salad:
1 cup green papaya, shredded (use a vegetable peeler to peel slices off, then use a knife to cut into strips)
½ a sweet Maui onion, thinly sliced
4 small bunches watercress, hard stems removed
½ cup fresh mint leaves
1 cup spiced walnuts
juice of 1 lime
½ cup herb vinaigrette
for the spiced walnuts:
2 cups walnuts
2 cups water
2 cups sugar
1 teaspoon chile powder
oil for frying
1. To make the dressing, combine mint, scallions, lime juice and garlic in a blender and blitz until smooth.
2. Remove to a bowl and whisk in honey and canola oil.
3. Taste and adjust with more honey or lime juice until balanced.
4. In a bowl, combine shredded papaya, onions, some dressing, salt, and a squeeze of lime juice. Toss to combine.
5. Add watercress and mint and toss lightly.
6. Plate salad and sprinkle over spiced walnuts.
7. Drizzle with a little more vinaigrette over the top.
To make the spiced walnuts:
1. combine water, sugar, and chile in a saucepan and bring to a boil.
2. Add walnuts and cook until the liquid has a syrupy consistency and coats the walnuts (approximately 45 minutes-1 hour).
3. Strain walnuts, and heat fry oil to 350°. Fry until nicely browned.
Originally featured in Go Now: Cassia Is Up And Running