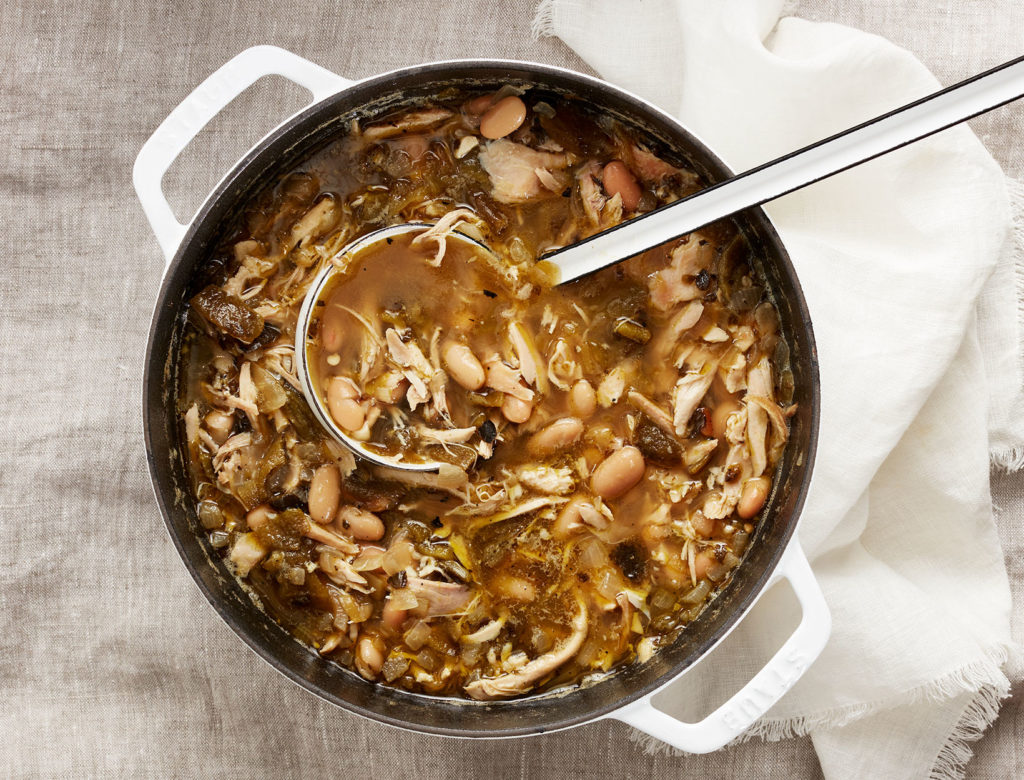 Green Chili Stew with Chicken and White Beans
A cross between New Mexican green chili stew and white chicken chili, this smoky, hearty stew really delivers on flavor. It'll definitely liven up your leftover chicken.
1. First, roast the poblanos: Place each pepper directly over the gas flame of your stove (or in the oven under your broiler) until it starts to blacken. Rotate it to char evenly on all sides. Once it looks sufficiently charred, remove from heat, place in a bowl, and cover with a tea towel. Let it sit for 5 minutes.
2. While the poblano peppers rest, start the soup. Heat the olive oil in a large pot over medium-high heat. Once hot, add the onion and salt and cook for about 5 minutes, until fragrant and translucent. Reduce the heat to medium and add the garlic, jalapeño, cumin, and oregano. Let cook for another 5 to 8 minutes, stirring occasionally, just so everything melds together and the flavors concentrate.
3. In the meantime, peel and prep the poblanos. You should be able to easily rub off the charred skin to reveal the tender roasted pepper (don't rinse them with water—that would wash away the smoky flavor). Then remove the seeds and ribs and dice them.
4. Add the diced poblanos and the green chilies to the onion mixture in the pot, along with the beans, chicken, and stock. Reduce the heat to medium-low and let cook for about 45 minutes.
5. Taste for seasoning and adjust accordingly. To serve, ladle the stew into bowls and finish with a squeeze of lime, some fresh cilantro, and a dollop of yogurt, if desired.
Originally featured in Three Different Meals You Can Make from One Roast Chicken