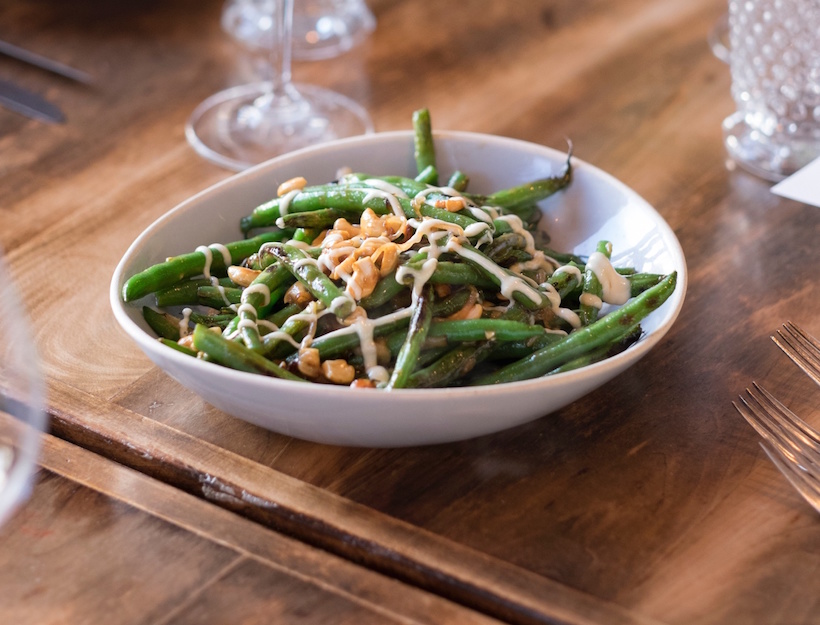 Green Beans with Girl & the Goat Sauté
A welcome new twist on the classic green bean side dish; don't skip the cashews—they add really nice richness and crunch.
1 pound green beans, ends removed and blanched
¼ cup Girl & the Goat sauté, divided
¼ cup shallots, thinly sliced
½ cup mayonnaise
½ cup cashews, toasted
1. In a small bowl whisk together 2 tablespoons of Girl & the Goat sauté and the mayonnaise. Set aside to top cooked green beans.
2. Meanwhile, coat the bottom of a medium sauté pan with a small amount of oil and heat to medium heat.
3. Once hot, add blanched green beans and sliced shallots. Sauté for 3 minutes, tossing regularly.
4. Add remaining 2 tablespoons of Girl & the Goat sauté and cook for another three minutes, until green beans are tender. Add salt to taste.
5. Pour cooked green beans into a bowl. Drizzle sauté mayo over the top and sprinkle with toasted cashews.
Originally featured in A Dinner Feast with Stephanie Izard