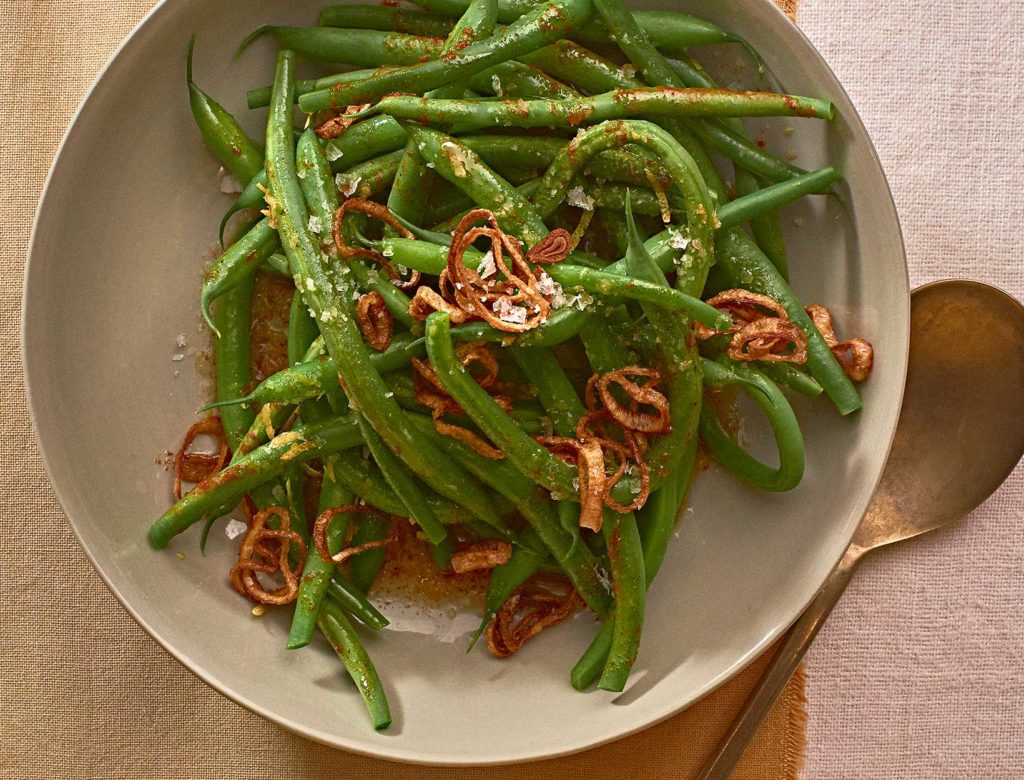 Green Beans in Spicy Brown Butter with Crispy Shallots
Traditional green bean casserole is perhaps more delicious as a memory than it is in reality. It's an incredibly rich belly bomb, and making it is kind of a production. We wanted to take our favorite things about it (butter, tender green beans, crispy onions) and add some elements to brighten it up (sriracha, lemon). This version hits all the marks, and it does so with only 7 ingredients. Huzzah!
1. Put the shallots in the smallest saucepan you have and add enough oil to just cover them. Bring to a simmer over medium heat, then reduce the heat to maintain a steady simmer. Cook until lightly browned, 5 to 7 minutes. Use tongs or a slotted spoon to remove the shallots to a paper-towel-lined plate (don't worry if they don't feel crispy—they will crisp up as they cool). Season immediately with a pinch of salt.
2. Meanwhile, bring a pot of water to a boil. Add a generous pinch of salt and the green beans. Boil for about 2 minutes, drain, then immerse the green beans in an ice-water bath. Drain, dry, and set aside.
3. Melt the butter in a large sauté pan over medium-low heat. Once it's fully melted, watch as it browns. When it smells nutty and fragrant and looks a few shades darker, remove the pan from the heat. Stir in the sriracha, lemon zest, and lemon juice. Add the blanched green beans to the pan and return the pan to medium heat to warm through. To serve, place the buttered green beans on a platter and top with the crispy shallots.
Originally featured in 4 Easy, Wild Card Veggie Sides for Thanksgiving Day