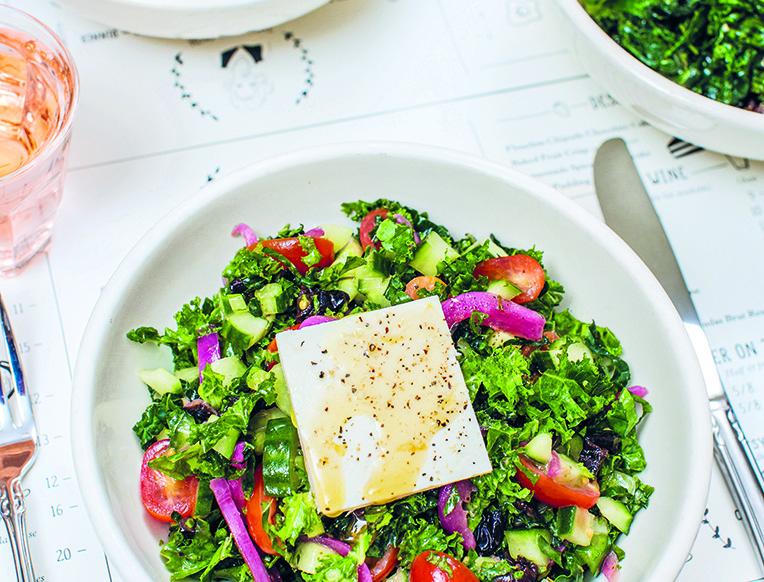 This salad comes together pretty quickly, but it's easy to prep ahead of time, too. The sturdy kale and pickled onions will hold up just fine, just wait to add the tomato and cucumbers until right before serving.
1. Start by pickling the onions. Peel the onion and cut into quarters. Remove the center few pieces of the onion, especially if they are green. Julienne the quarters lengthwise, roughly ⅛ inch thick, being careful not to cut too thin.
2. Then make the dressing. Combine the vinegar, mustard, sugar, and salt. In a slow, steady
stream, begin adding the olive oil while whisking continuously. Finish by whisking in the dried oregano. If the dressing seems too thick, thin it out with a little water. Season with salt and pepper.
3. In a small saucepan, mix ½ cup water, the vinegar, sugar, and salt. Heat to just a boil, stirring to make sure the sugar and salt have dissolved. Add the bay leaf to the liquid and pour over the onions. Cover with plastic wrap and cool. Drain and discard any liquid before eating.
4. Wash and dry the kale and cut out any large stems. Cut the kale into thin
strips crosswise and put in a large bowl. Lightly salt the kale and dress with ¼ cup of red
wine vinaigrette. Massage the vinaigrette into the kale, tossing gently with your hands.
5. Cut the cucumber into small, bite-size pieces. Cut the cherry tomatoes in half. Cut the olives in half. Add the tomatoes, cucumber, pickled onions, and olives to the bowl over the kale.
6. Drizzle an additional 2 tablespoons of vinaigrette over the vegetables and mix with the kale. Once mixed, taste to determine if you need extra vinaigrette or salt and add accordingly. Top with ¼-inch-thick slices of feta.
From JACK'S WIFE FREDA: Cooking from New York's West Village by Maya and Dean Jankelowitz. Recipes by Julia Jaksic. Published by Blue Rider Press, an imprint of Penguin Publishing Group, a division of Penguin Random House LLC. Copyright © 2016 by NoamBennyLLC. Photo: Henry Hargreaves
Originally featured in goop Cookbook Club: Jack's Wife Freda