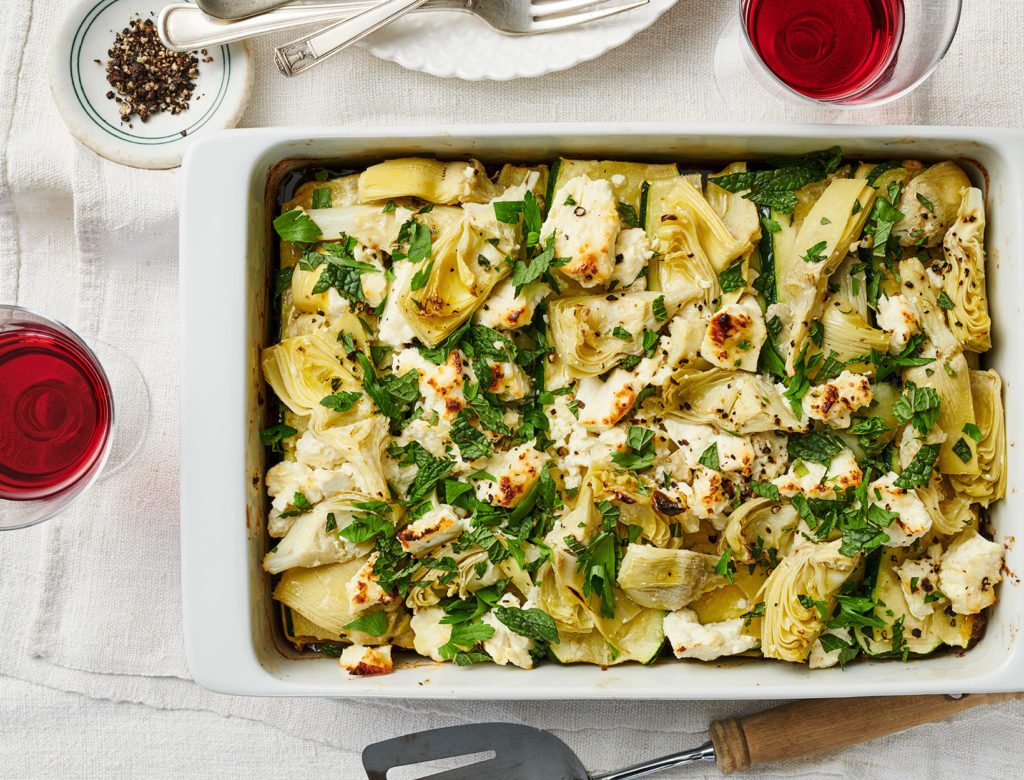 Greek Lasagna with Lamb, Zucchini, and Artichokes
"Lasagna has always been a favorite of mine, but I never feel good after eating it. For this version, I went light on the dairy, but I used feta, a super flavorful cheese, so you don't feel like you're missing out. I also nixed the gluten by using thinly sliced zucchini in place of pasta. Now it's a meal I could eat every day and feel great about." —Seamus Mullen
4 large zucchini, thinly sliced lengthwise (¼-inch thick)
4 tablespoons extra virgin olive oil, divided
1 pound ground lamb
1 medium onion, diced
2 cloves garlic, minced
2 cups canned whole San Marzano tomatoes, crushed by hand
1 cup artichoke hearts
4 tablespoons pine nuts
¼ cup raisins
1 cup feta cheese
2 tablespoons za'atar
salt and pepper to taste
fresh mint and parsley to garnish
1. Preheat oven to 350°F.
2. Rub a 9×13-inch baking dish with 1 tablespoon of olive oil and set aside.
3. In a large pot, heat remaining olive oil over medium-high heat and lightly sauté the onion for 5 minutes. Add the ground lamb, garlic, pine nuts, and raisins and gently brown for 3 minutes. Add the crushed tomatoes and za'atar and season with salt and pepper. Cook for 20 minutes, then remove from heat.
4. Spread a thin layer of the lamb over the bottom of the baking dish and cover with a layer of zucchini slices. Add another layer of lamb and another layer of zucchini, then finish with a layer of feta and artichoke hearts.
5. Cover with foil and bake for 35 minutes. Remove from oven and serve with fresh mint and fresh parsley.