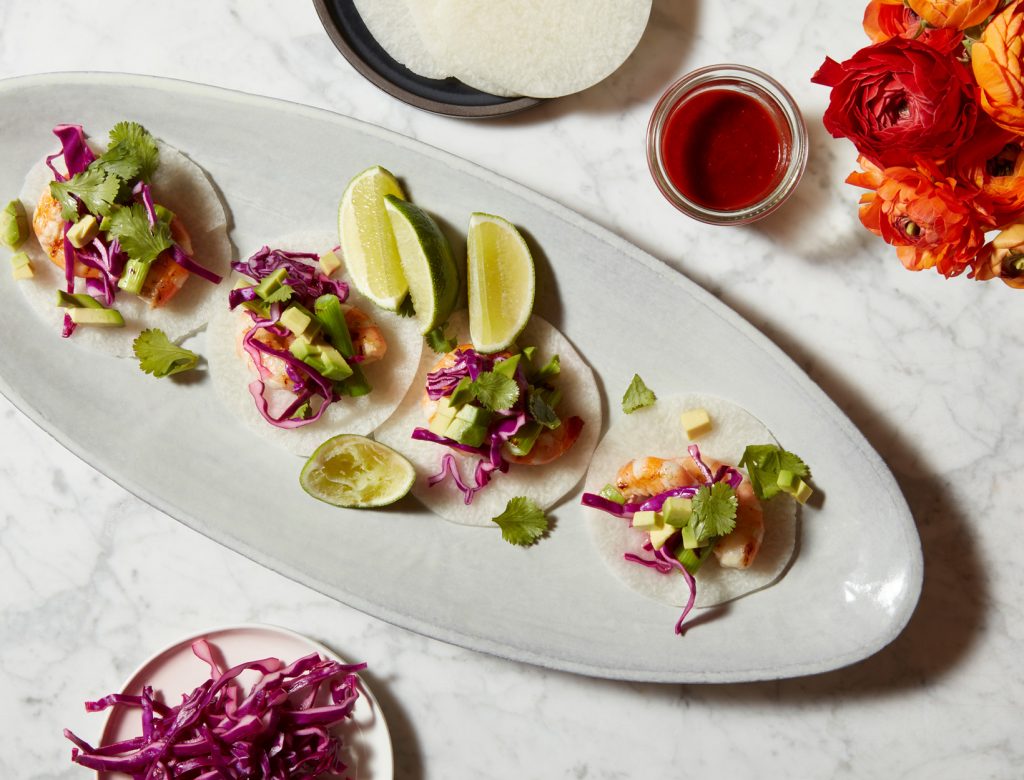 Grain-Free Jicama Shrimp Tacos
These tacos are super clean and totally satisfying. The crunch of the jicama is a great swap for a crunchy corn tortilla shell. We use habanero hot sauce here, which is balanced out by the cool jicama and avocado, but any hot sauce will do.
½ pound shrimp, peeled and deveined
2 tablespoons olive oil
juice of ½ lime
salt
4 scallions, sliced into 1-inch pieces
wooden or metal skewers
1 small jicama (about 5 inches in diameter)
½ cup shredded cabbage
½ avocado, thinly sliced
cilantro leaves
habanero hot sauce
lime wedges, to serve
1. Toss the shrimp with the olive oil, lime juice, and a large pinch of salt. Then thread them onto two skewers (almost yakitori-style), followed by two pieces of scallion, alternating that pattern until you've used everything up.
2. Meanwhile, peel the jicama and use a jumbo mandoline or a very sharp knife to slice four ⅛-inch "tortillas."
3. Heat a grill pan over medium-high heat. Add the skewers and cook for about 2 minutes on each side, or until just cooked through.
4. Place a couple shrimp and grilled scallions on each tortilla shell and top with the shredded cabbage and avocado slices. Drizzle with habanero hot sauce and top with cilantro leaves.
5. Serve with lime wedges on the side.