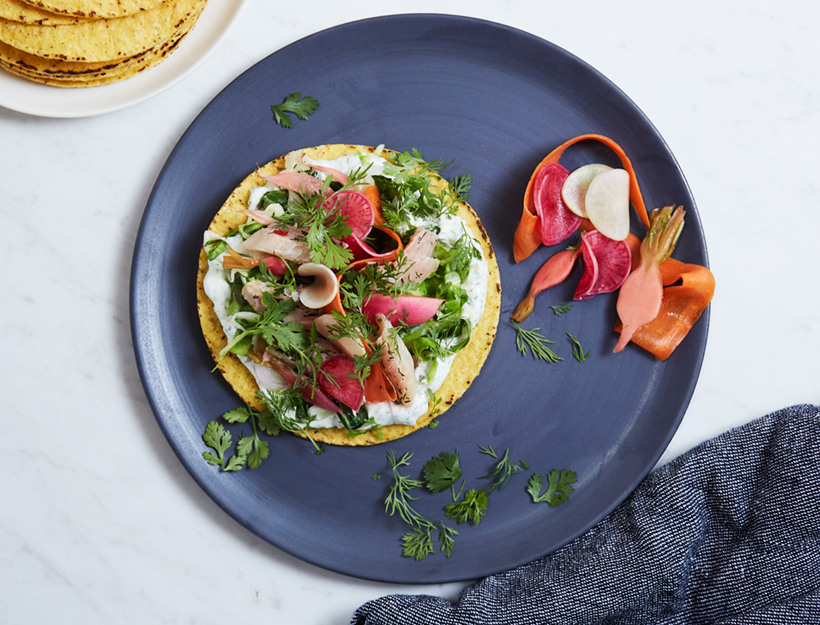 GP's Scandinavian Tostada
Cali and Scandi cuisine might not sound like a harmonious pair, but we loved this hybrid of classics: Tostada meets smørrebrød!
corn tostada shells
4-6oz filet of smoked trout
minced serrano chile
for the crema:
5oz creme fraiche
zest of 1/2 a small lime
1 tbsp each chopped parsley, cilantro and dill
for the cabbage salad:
1/4 head of a small green cabbage, thinly sliced
1 small shallot, thinly sliced
1 generous pinch of salt
the zest of 1 small lime
for the mixed pickles:
1 tsp mustard seeds
1 cinnamon stick
1 tsp mexican oregano
1/4 tsp chile flakes
1/4 c sugar
1 tbsp salt
1 1/2 c red wine vinegar
1/2 c water
4 garlic cloves
a few slices of jalapeno
thinly sliced carrots, radishes, and onions (or any mix of veggies you'd like to pickle)
1. Start by making the quick pickles. Combine the spices, sugar, vinegar and water, stir until sugar and salt have dissolved. Toss in the garlic, jalapeño and mixed veggies. Let this sit for at least 20 minutes at room temperature.
2. In a separate bowl, toss the cabbage, shallot, zest and salt together.
3. Next, make the crema by adding lime zest and chopped herbs to the creme fraîche. Mix and season to taste.
4. To assemble, take a tostada and spread some creme fraîche as a base. Add 1/4 of the flaked trout filet to the top, then add a few mixed pickles and cabbage salad. Garnish with some minced serrano, cilantro and dill.
Originally featured in The TACO: gp x Magnus