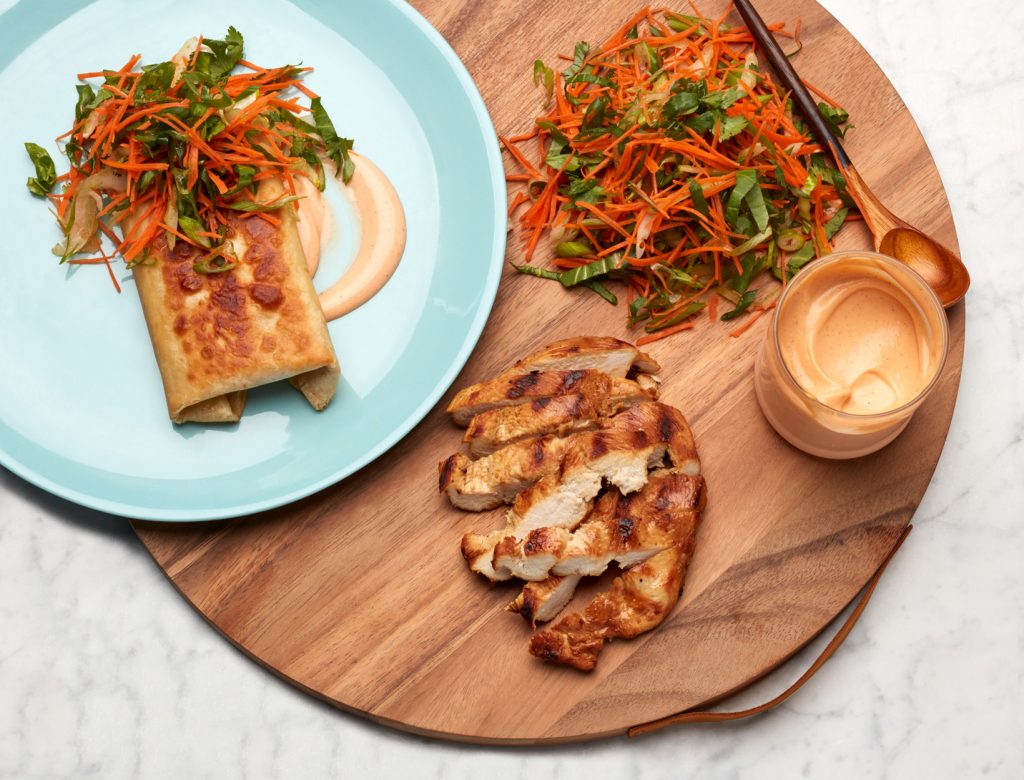 We didn't think it would be possible to clean up a cheesy, buttery, pork Cubano, but we turned to some of our favorite Asian ingredients to help: Chinese mustard, ponzu, and ghee. (It tastes just as good, too—we swear.)
1. First, make the marinade. Combine the ponzu, tamari, sesame oil, garlic, and ginger in a bowl. Add the chicken, and let marinate for about an hour in the fridge.
2. After an hour, remove the chicken from the fridge and pre-heat a grill pan over medium-high heat. Brush it with a little neutral oil, then add the chicken breasts. They should cook for about 4 minutes each side, until they get nice grill marks. Then they should rest for another 5 minutes or so after grilling.
3. While the chicken is grilling and then resting, make the slaw and the Vegenaise.
4. For the slaw, combine the grated carrots, sliced baby bok choy, scallions and cilantro in a small bowl. Toss with the rice vinegar, sesame oil, and a pinch of salt.
5. For the Veganaise, simply combine the Veganaise, sriracha, and grated garlic.
6. Once the chicken has rested, cut it into strips. To assemble the wrap, spread a heaping tablespoon of Chinese mustard onto a tortilla, then pile on about half the chicken. Then wrap it up, tucking all sides in like a little parcel.
7. Then heat a nonstick pan over medium heat. Add about a teaspoon of ghee. Place the tortilla seam side down and let toast for about 45 seconds to a minute, or until golden brown. Then flip and brown the other side.
Originally featured in Real Men Eat goop: The Cubano