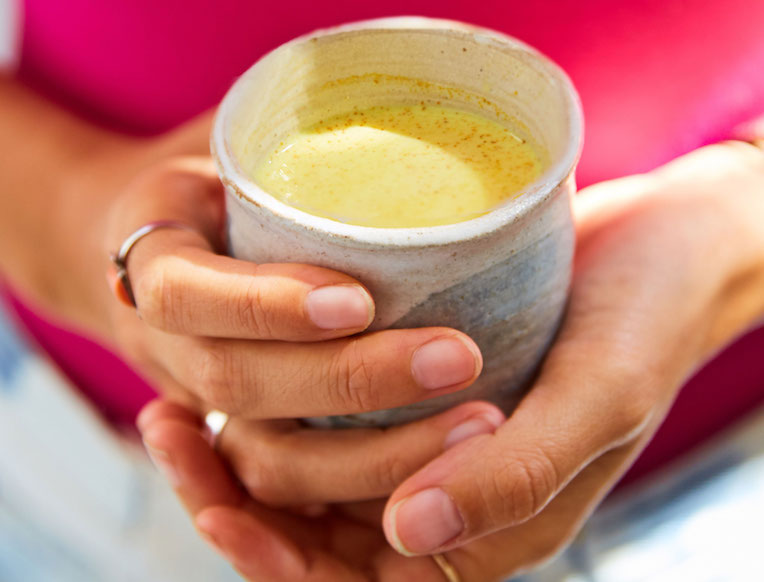 Golden Milk
"Golden milk is nothing new to goop followers, but I love sharing this recipe because it's such a hit. It's such a beautiful, easy, and delicious introduction to the ancient philosophy of Ayurveda. A taste-bud-tingling alternative to coffee, this comforting drink is perfect for any time of day." —Jasmine Hemsley
1 cup organic whole milk (preferably unhomogenized) or almond, oat, coconut, hemp milk, etc.
½ cup water
½ teaspoon ground cinnamon
½ teaspoon ground turmeric
2 to 3 cardamom pods, cracked, or ⅛ teaspoon ground cardamom
pinch of ground nutmeg
a good grind of black pepper
Optional:
1 date or 1 teaspoon jaggery to sweeten
1 teaspoon grated fresh ginger or ½ teaspoon ground ginger
1 teaspoon organic ghee (good for vata)
1. Add the milk, water, spices, and the date, if using, to a pan and season with black pepper and whisk well.
2. Bring to the boil and then reduce to a simmer for 10 minutes, being careful not to let it burn or let it bubble over! Add ghee and jaggery if using, mix well, and remove from heat.
3. Allow to cool a little, strain and serve.
Recipe excerpted from East by West. Copyright © 2017 by Jasmine Hemsley. Published by Bluebird Books, an imprint of Pan Macmillan.