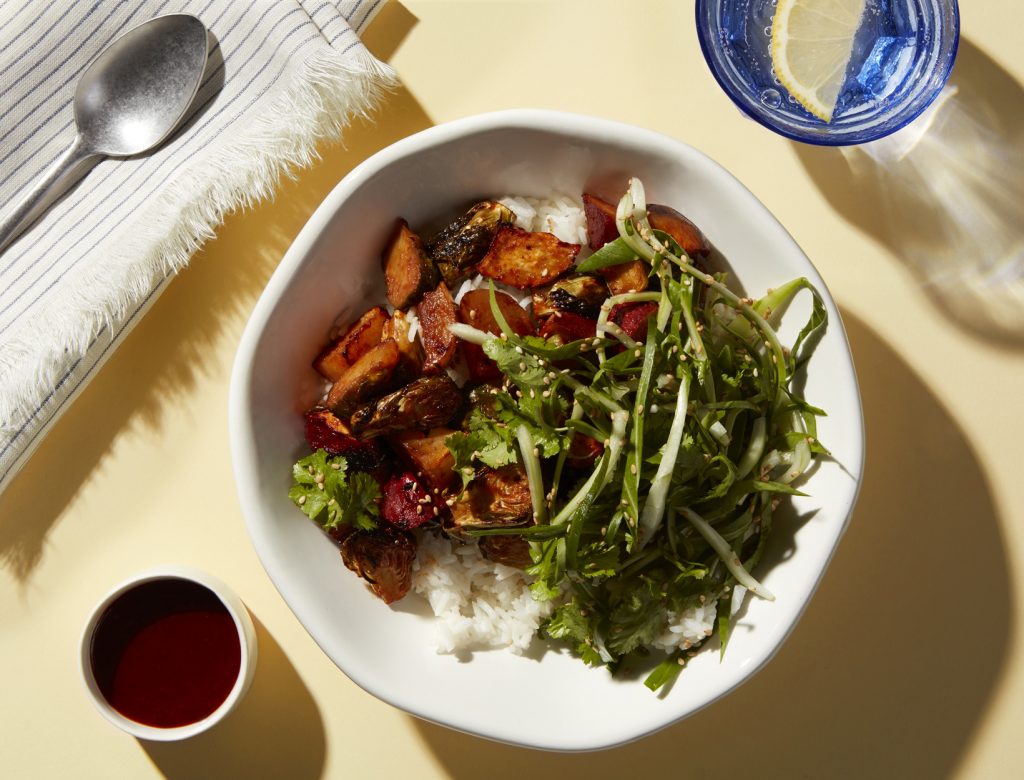 Gochujang Roasted Veggie Bowl
Just when you think you can't eat another roasted veggie grain bowl, here comes this boldly seasoned Korean-inspired bowl. We are a little obsessed with gochujang—a slightly sweet and spicy fermented Korean chili paste—so we decided to toss the usual roasted veggie suspects with it, and it was a hit.
1 cup jasmine rice
2 tablespoons gochujang
¼ cup tamari
1 teaspoon sesame oil
2 cloves garlic, grated
2 tablespoons olive oil
2 small sweet potatoes, cut into 1-inch cubes
2 turnips, peeled and cut into 1-inch cubes
1 pound brussels sprouts, halved
2 heads baby bok choy
4 scallions, thinly sliced
¼ cup pickled cilantro leaves
juice of 1 lime
sesame seeds to garnish
1. Preheat the oven to 425°F.
2. Mix the first 5 ingredients in a large bowl. Toss all but 2 tablespoons of the mixture with the root veggies (you'll use those 2 tablespoons to garnish). Then spread them out evenly on a parchment-lined baking sheet. Bake them for 35 to 40 minutes, tossing them and rotating the tray halfway through the cooking time.
3. While the veggies roast, cook the jasmine rice according to the package directions.
4. Right before serving, assemble the bok choy slaw by combining all the ingredients in a bowl.
5. To assemble, layer jasmine rice and roasted veggies in a bowl, and drizzle each bowl with the remaining gochugang sauce. Then top with the bok choy slaw and sesame seeds.
Originally featured in Eat Well (and Shop Only Once) All Week