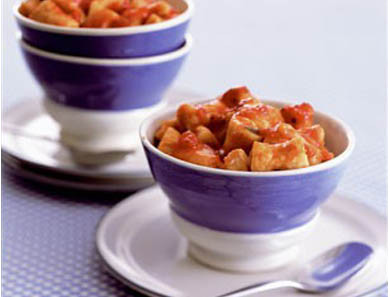 Soft, homemade little balls of potato, ricotta and whole-wheat flour simply warm us from the inside. A nice change up from dry pasta.
1. In a large bowl, mix the ricotta cheese, sweet potato puree, egg, egg white, Parmesan, baking powder, and salt. Add both types of flour at once. Mix with a wooden spoon until the flour is just absorbed, the puree is well-combined, and a soft sticky dough forms.
2. Cover 2 baking sheets with waxed paper or aluminum foil. Cut the dough into 8 pieces. On a lightly-floured counter, roll the dough into a log about 12 inches long and 1 inch thick. Slice off 1 x 12-inch pieces of dough to form the gnocchi. Transfer to the baking sheet and repeat with remaining dough.
3. Fill an 8-quart stockpot with water and bring to a boil. Add half the gnocchi (so that they don't stick) and gently stir. Cook until the pasta is tender and no longer translucent in the center, 4 to 6 minutes. The gnocchi should be floating. Lift them out with a slotted spoon and transfer to a large serving dish. Cover with aluminum foil. Repeat with the remaining gnocchi and top with sauce. Serve immediately.
Contributed by doitdelicious.
Originally featured in Do it Delicious with Jessica Seinfeld