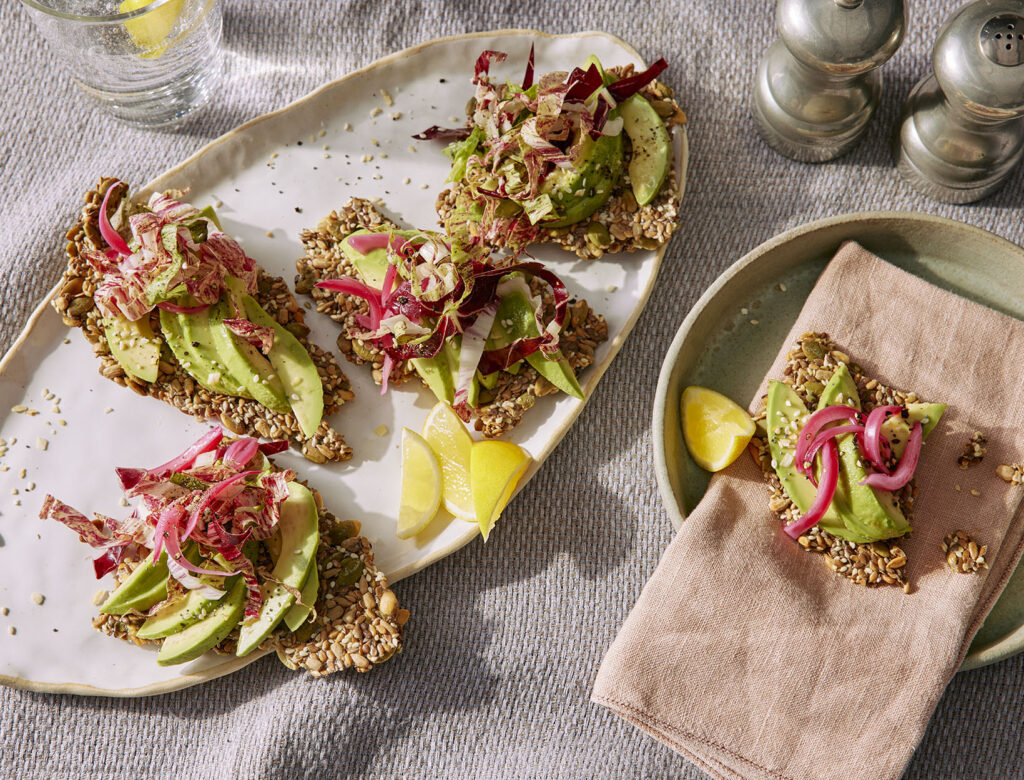 Gluten-Free Seeded Cracker Tartine
goop Kitchen serves a version of this recipe, which we think is a bit more compelling than avocado toast. Eat this cracker tartine with soup or as a snack. It's also delicious with the Classic Chicken Salad.
1. For the crackers, preheat your oven to 350°F. Line a sheet tray with a piece of parchment paper. Lightly drizzle a little olive oil on the parchment paper so the crackers don't stick. Mix the next 4 ingredients together.
2. Carefully add the water and mix to combine. Once fully incorporated, spread the seed mixture into the pan in one even layer. Season the top of the seeded mixture with the everything spice seasoning and bake for about 1 hour until completely dried and crunchy.
3. To make the pickled red onions, combine the red onions and lemon juice in a bowl and allow to sit for 5 minutes. This helps the onion stay a vibrant red. Combine the rest of the ingredients in a pot and bring to a boil. Pour over the onions immediately and cover so the steam helps cook the onions quickly. Refrigerate and store until ready to use.
4. To assemble the tartines, slice the avocado, fan it out on top of a broken shard of cracker, and add the pickled red onion. Season with olive oil and lemon. Make a little salad on top and season the whole top with olive oil and lemon. Season with the everything bagel mix and finish with a good crack of pepper.
Originally featured in The Annual New Year Detox: 2023 Edition