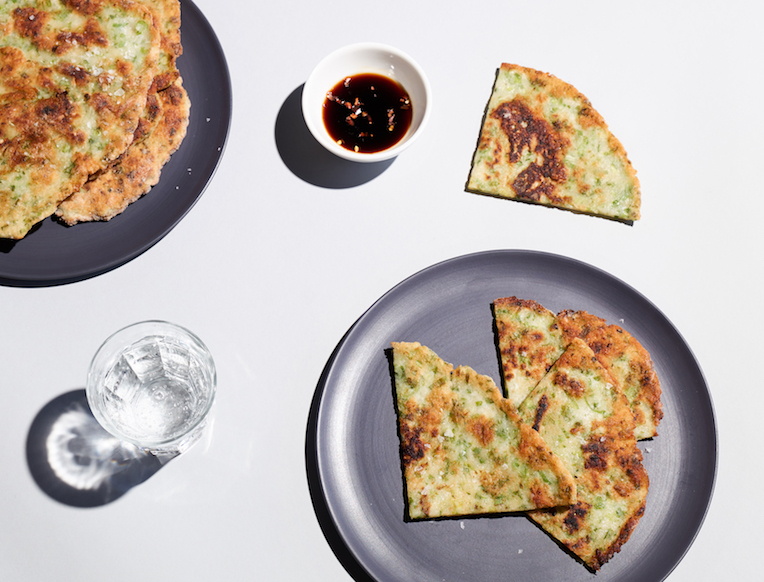 Gluten-Free Scallion Pancakes
These scallion pancakes are still the crispy, chewy, oniony, salty delights, minus the gluten. The dough is a little trickier to work with than your average wheat flour based recipe, but it's totally worth it, and once you get the hang of it, you'll be flying. Just keep that rice flour handy for dusting your dough surface and rolling pin.
1. Combine the flour, scallions, and salt. Add the hot water and sesame oil, and form into a dough. (If the dough is too tacky, add a few teaspoons of gluten-free flour.) Wrap the dough in plastic wrap, and let rest for at least 30 minutes.
2. Once the dough has rested, divide the dough into 4 pieces and roll them out on a surface that has been generously dusted with rice flour. (If the dough still seems tacky, try rolling it between 2 pieces of rice-flour-dusted plastic wrap.) Roll until the pieces are ¼- to ½-inch thick.
3. Heat a heavy-bottomed pan, like a cast-iron, over medium-high heat. Drizzle a layer of neutral frying oil,
like grape-seed or sunflower oil. Once the oil is hot, fry the pancakes 1 at a time, for about 3 minutes per side, or until firm and golden. Once cooked, sprinkle with flaky sea salt and cut into wedges.
Originally featured in Better than Takeout: Four Chinese Food Recipes to Make at Home