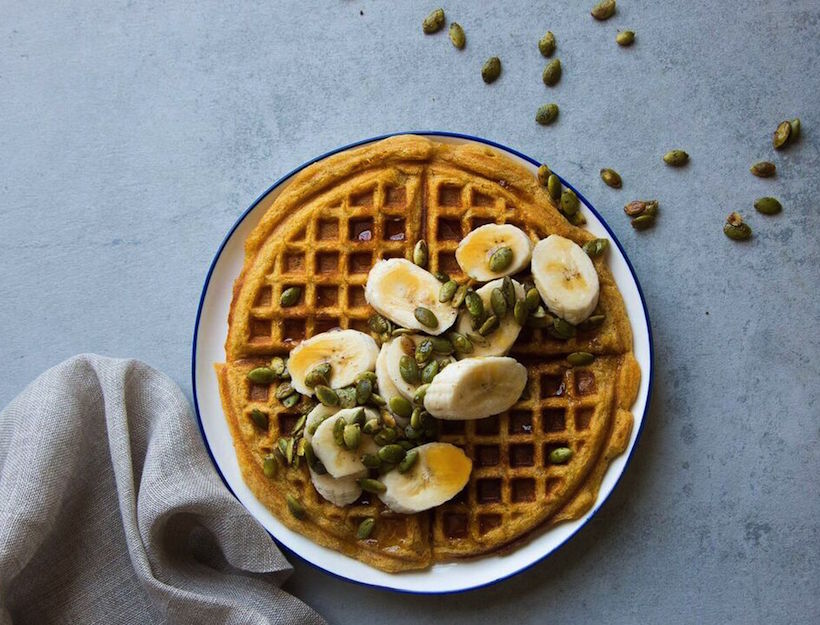 Gluten-Free Pumpkin Waffles with Banana & Candied Pumpkin Seeds
These gluten-, dairy-, and refined-sugar-free waffles are a seasonal twist on the ones in GP's cookbook It's All Good. Make the batter the night before so it's ready whenever you are.
1 cup gluten-free flour (we use Cup4Cup brand)
1 cup brown rice flour
2 teaspoons baking powder
pinch salt
1 teaspoon cinnamon
½ teaspoon ground ginger
¼ teaspoon ground cloves
¼ teaspoon ground nutmeg
2 cups rice milk
2 tablespoons lemon juice
6 tablespoons maple syrup plus extra for serving
1 cup organic canned pumpkin purée
2 teaspoons vanilla extract
2 large or 4 small bananas
for the candied pumpkin seeds:

1 teaspoon olive oil
½ cup pumpkin seeds
1 large pinch kosher salt
1 pinch ground cinnamon
1 pinch ground ginger
1 pinch ground cloves
1 pinch ground nutmeg
2 teaspoons maple syrup
1. Preheat the oven to 250°F.
2. Whisk together gluten-free flour, brown rice flour, baking powder, salt, and spices in a large bowl.
3. In another bowl, combine rice milk, lemon juice, maple syrup, pumpkin purée, and vanilla extract. Whisk to combine completely, then slowly whisk in dry ingredients.
4. Heat your waffle maker according to the manufacturer's instructions. Grease with a little oil or cooking spray and cook your waffles until they're nicely browned on both sides, 4 to 7 minutes, depending on your machine. As you cook the waffles, keep them warm in the oven until ready to serve.
5. While the waffles cook, heat a small sauté pan over medium heat. Add the teaspoon of olive oil, the pumpkin seeds, and the spices and cook for 1 minute, or until the seeds are beginning to brown and smell nutty. Add the 2 teaspoons maple syrup, turn off the heat, and let the maple syrup bubble in the pan for 30 seconds. Remove candied pumpkin seeds to a plate to cool.
6. When the waffles are cooked, serve topped with sliced banana, a sprinkling of candied pumpkin seeds, and extra maple syrup on the side.
Originally featured in Healthy Breakfasts