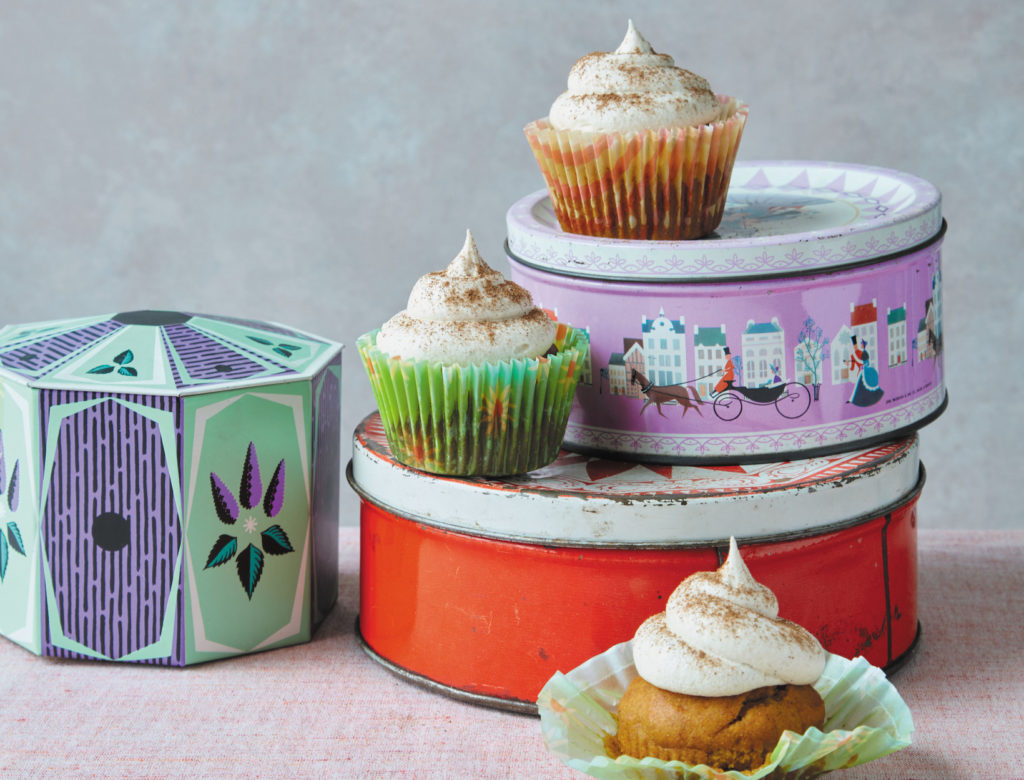 Gluten-Free Pumpkin Spiced Cupcakes
"These cupcakes are a must throughout the autumn months. They will sit proudly as a centre piece at any Halloween celebration! The added pumpkin purée gives the cupcakes a moist texture, balanced by perfectly spiced cream cheese frosting." —Cox
For the cupcakes:
225 milliliters (7¾ ounces) soya milk
1 tablespoon apple cider vinegar
235 grams (8½ ounces) gluten-free self-rising flour
210 grams (7½ ounces) castor (granulated) sugar
1 teaspoon bicarbonate of soda (baking soda)
1 teaspoon ground cinnamon
¼ teaspoon ground nutmeg
¼ teaspoon ground ginger
½ teaspoon salt
90 milliliters (3 fluid ounces) vegetable oil, or any neutral oil
140 grams (5 ounces) pumpkin purée (canned works great)
For the cream cheese icing:
100 grams (3½ ounces) vegan butter block
400 grams (14 ounces) icing (confectioners') sugar
170 grams (6 ounces) vegan cream cheese
½ teaspoon ground cinnamon
1. Preheat the oven to 180°C (350°F) fan. Line a muffin tray with 12 cupcake cases.
2. Put the soya milk in a jug and heat in the microwave for 1 minute to warm through (alternatively, you can do this in a pan on the hob). Once warmed, mix in the apple cider vinegar and place to the side to curdle—this will take about 5 minutes.
3. Meanwhile, put all of the dry ingredients into a bowl and whisk together until combined.
4. Once the milk has curdled, add the oil to the same jug and mix. Pour the wet mixture into the dry ingredients and whisk until a smooth batter is formed—try not to overmix the batter.
5. Finally, add the pumpkin purée to the batter and stir until fully combined.
6. Divide the batter between the 12 cupcake cases, filling them to around three quarters full—they will rise once baked. I like to use an ice cream scoop to make it easier to fill the cases evenly.
7. Bake for 20 to 25 minutes, until a skewer inserted into a cupcake comes out clean. Once baked, place the cupcakes on a cooling rack to cool completely.
8. Meanwhile, make the cream cheese icing. Cream the butter and icing sugar together with an electric hand whisk or in a stand mixer (a wooden spoon will work if you don't have an electric mixer) until light and fluffy. Add the cream cheese and cinnamon and whisk again until smooth and fully combined.
9. Once the cupcakes are cool, ice them. If you fancy piping the icing, spoon it into a piping bag with a round nozzle and pipe swirls of icing onto each cupcake. Alternatively, you can just spread the icing onto each cupcake and enjoy!
Adapted from the book Simply Vegan Baking by Freya Cox. Copyright © 2022 by Freya Cox. Published by Harper Design, an imprint of HarperCollins Publishers. Reprinted by permission. Photo by Clare Winfield.
Originally featured in 3 Simple Vegan Desserts