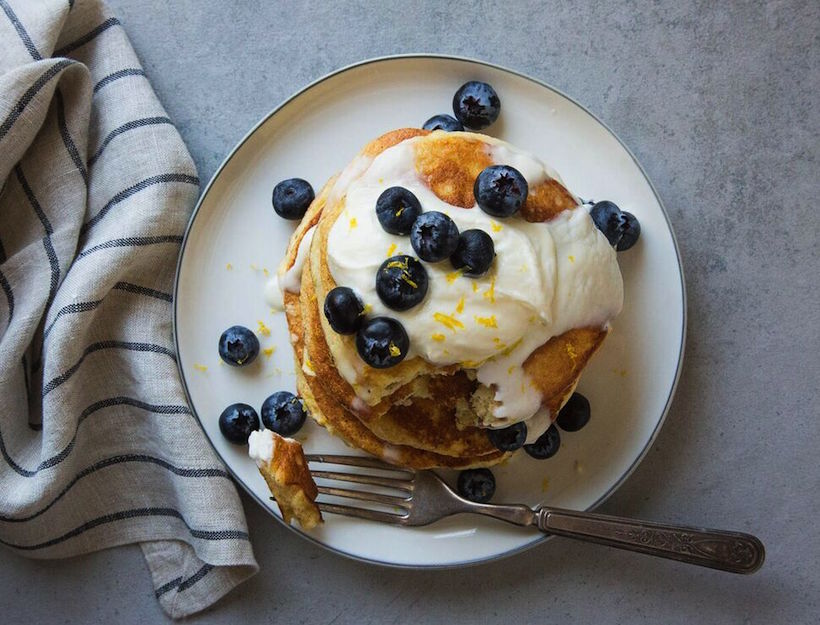 Gluten-Free Lemon Ricotta Pancakes
It seems like every brunch place in LA and NYC has a version of these on the menu, and why not—they're almost always irresistible. Here is our easy gluten-free version topped with honeyed crème fraîche whipped cream and blueberries. Make the batter the night before so it's ready whenever you are in the morning.
4 eggs, separated
¼ cup granulated sugar
zest of 2 large Meyer lemons
2 teaspoons vanilla extract
½ cup whole-milk ricotta cheese
6 tablespoons whole milk
large pinch salt
½ cup sifted gluten-free flour (we use Cup4Cup brand)
butter, as needed (about 4 tablespoons)
½ cup whipping cream
⅓ cup crème fraiche
2 tablespoons honey
1 pint fresh blueberries
1. Preheat oven to 250°F.
2. In a large bowl, vigorously whisk together egg yolks, sugar, and lemon zest until light in color and thickened, about 2 minutes.
3. Add vanilla, ricotta cheese, and whole milk and mix to combine.
4. Add sifted flour and mix again to combine.
5. In a separate bowl, beat egg whites with a pinch of salt until they hold stiff peaks.
6. Fold ⅓ of the egg whites into the batter to lighten the mixture, then fold in the remaining egg whites being careful not to deflate them.
7. To cook the pancakes, heat a large nonstick or cast-iron pan over medium heat. Add 1 to 2 tablespoons of butter to the pan and, when it's melted, spoon about ⅓ of the batter into the pan making 4 3-inch pancakes. Cook for 3 minutes (or until the bottom is nicely golden), then carefully flip the pancakes and cook another 3 minutes on the other side (or until nicely browned on both sides and cooked through in the center).
8. Remove pancakes to a baking sheet lined with a cooling rack and keep warm in the oven while you cook the remaining 8 pancakes.
9. While the pancakes cook, whip the heavy cream until it holds soft peaks, then fold in crème fraîche and honey.
10. Serve warm pancakes with the whipped cream mixture and fresh blueberries.
Originally featured in Healthy Breakfasts