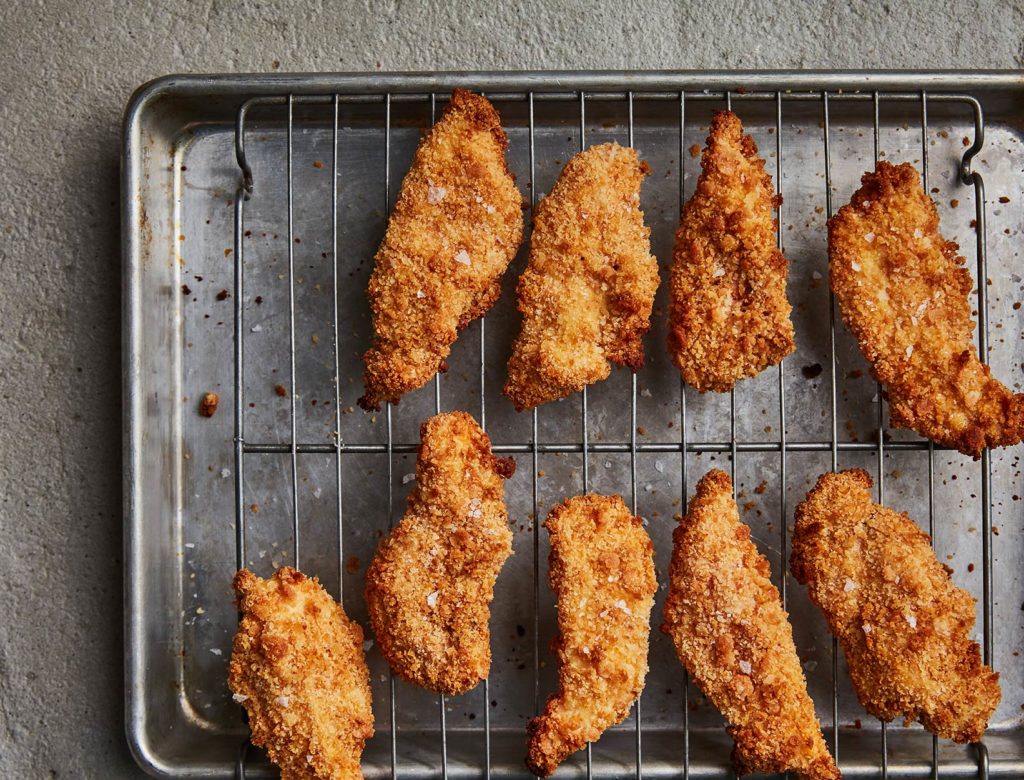 Oven-Baked Gluten-Free Chicken Tenders
Chicken tenders can please kids and adults alike—especially this more wholesome homemade version. Dunk them in your favorite sauce, have them over a salad, or put them in a sandwich or wrap with lots of cool, crunchy lettuce and a tangy dressing
1. Heat the oil in a skillet over medium-high heat. Add the bread crumbs and stir to incorporate, letting the oil absorb into the bread crumbs. Toss them frequently, letting the bread crumbs evenly toast—you should smell them toasting and see the color changing from pale to deeply golden. Once toasted, remove from the pan and let cool completely.
2. While the bread crumbs cool, combine the paprika, garlic powder, and 2 teaspooons of salt and sprinkle the mixture evenly over the chicken.
3. To arrange the dredging station, place the flour, eggs, and cooled bread crumbs in 3 wide, shallow dishes, sprinkling each with a little extra salt. To begin, coat a chicken piece completely first in the flour, then the egg, then the bread crumbs.
4. To bake, set the coated chicken on a wire rack on a sheet tray. Bake at 450°F for 10 to 15 minutes. Eat right away, or let cool and transfer to an airtight freezer storage bag. To reheat frozen tenders, place on a wire rack on a baking sheet and bake at 450°F until heated through, about 25 minutes.
Originally featured in Freezer-Friendly Dinners You Can Make Once and Eat Twice