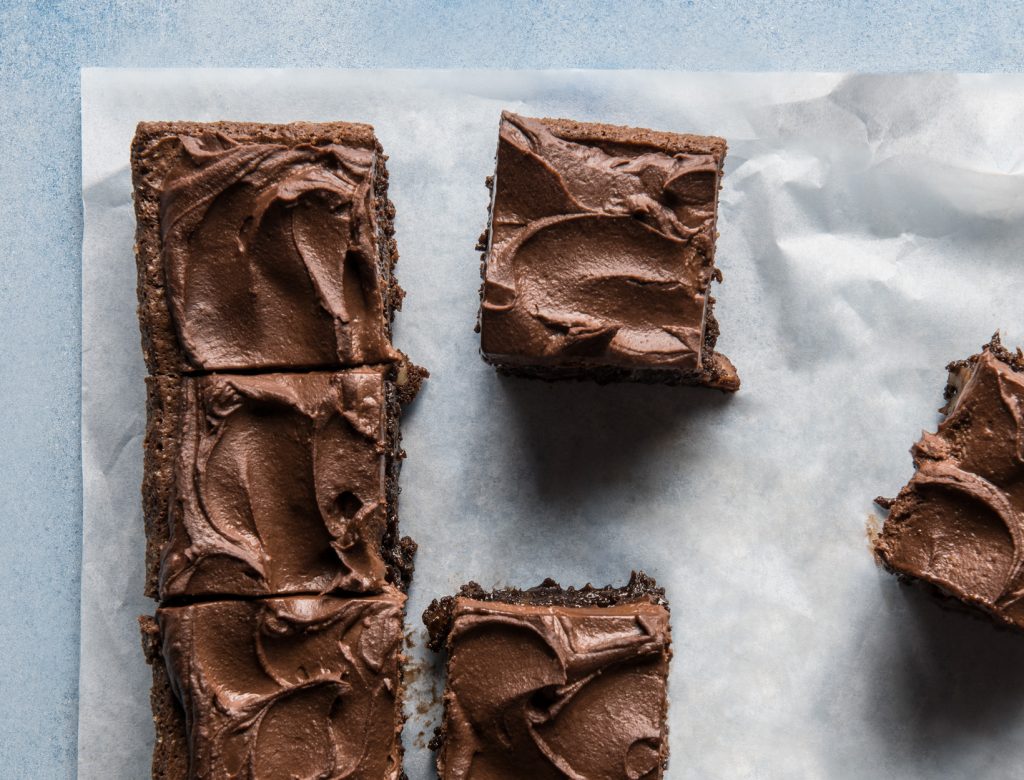 Gluten-Free Brownies with Coconut CBD Frosting
These are grown-up brownies—and not just because of their CBD-spiked frosting: The semisweet chocolate and cocoa powder make the flavors deep, dark, and rich.
12 tablespoons salted butter
2 cups semisweet chocolate chips
1¼ cups coconut sugar
4 large eggs, at room temperature
⅛ teaspoon kosher salt
½ teaspoon vanilla extract
2 tablespoons Dutch process cocoa powder
6 tablespoons arrowroot
1½ cups chopped walnuts
for the coconut CBD Frosting:
1 cup semisweet chocolate chips
1 cup full-fat coconut milk
½ teaspoon vanilla extract
1 teaspoon CBD oil
1 pinch kosher salt
1. Preheat your oven to 350ºF.
2. Warm a saucepan over very low heat. Add the butter and chocolate chips and mix until melted. Remove from heat and add the coconut sugar. Mix thoroughly, then add the eggs, salt, and vanilla extract. Mix vigorously until the batter goes from grainy to thick and smooth. Add the cocoa powder and arrowroot, then fold in the nuts.
3. Butter a 9×9-inch baking pan and line the bottom with parchment paper. Pour the batter into the pan and bake in the oven for 30 to 40 minutes, or until the center is just set.
4. While the brownies bake, make the coconut CBD frosting: Place a heatproof bowl over a pot of simmering water. Add the chocolate and stir until melted. Carefully remove the bowl from the heat and whisk in the coconut milk, vanilla, CBD oil, and salt. The frosting will be quite runny but will firm up after you let it set in the fridge for about 30 minutes.
5. When the brownies are completely cooled, spread the set frosting on top.
Originally featured in Gluten-Free Dark-Chocolate CBD Brownies