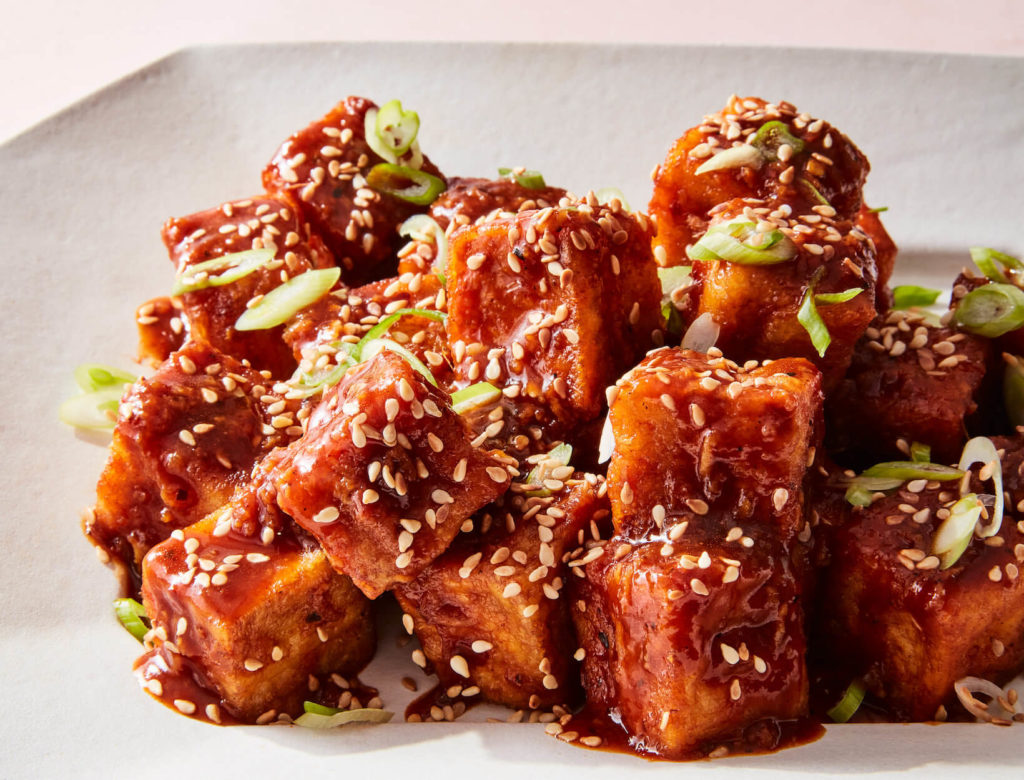 Glazed Ginger-Barbecue Tofu
"If you do tofu, this is your new favorite. Serve over a bowl of rice, or sautéed spinach, or cooked green beans." —Jessica Seinfeld
1. Cut the tofu into 1-inch cubes. Place between several layers of paper towels and weigh down with a sheet pan and a can of tomatoes (or a different heavy can) to absorb excess liquid.
2. In a small bowl, combine the tamari, barbecue sauce, water, vinegar, sesame oil, ginger, and red pepper flakes, if using.
3. In a large nonstick skillet, heat ¼ inch of olive oil over medium-high heat.
4. Put the cornstarch in a medium bowl. Add the tofu pieces and toss to coat. Shake off the excess cornstarch and add the tofu cubes, one by one, to the oil. Cook for 3 to 4 minutes on one side, until a light golden-brown crust forms. Carefully turn them and cook the opposite sides for 3 to 4 minutes more. Transfer to a paper-towel-lined plate.
5. Pour the hot oil into a heatproof container and let cool before discarding. Wipe the skillet clean with a paper towel. Return it to medium heat and add the sauce to the skillet. Once it starts to simmer, add the tofu and stir to coat. The sauce will quickly thicken into a glaze. Stir a few more times to coat, then slide the tofu onto a serving plate.
6. Top with the scallions and sesame seeds.
Originally featured in 3 Vegan Recipes and Late-Night Food Memories from Jessica Seinfeld