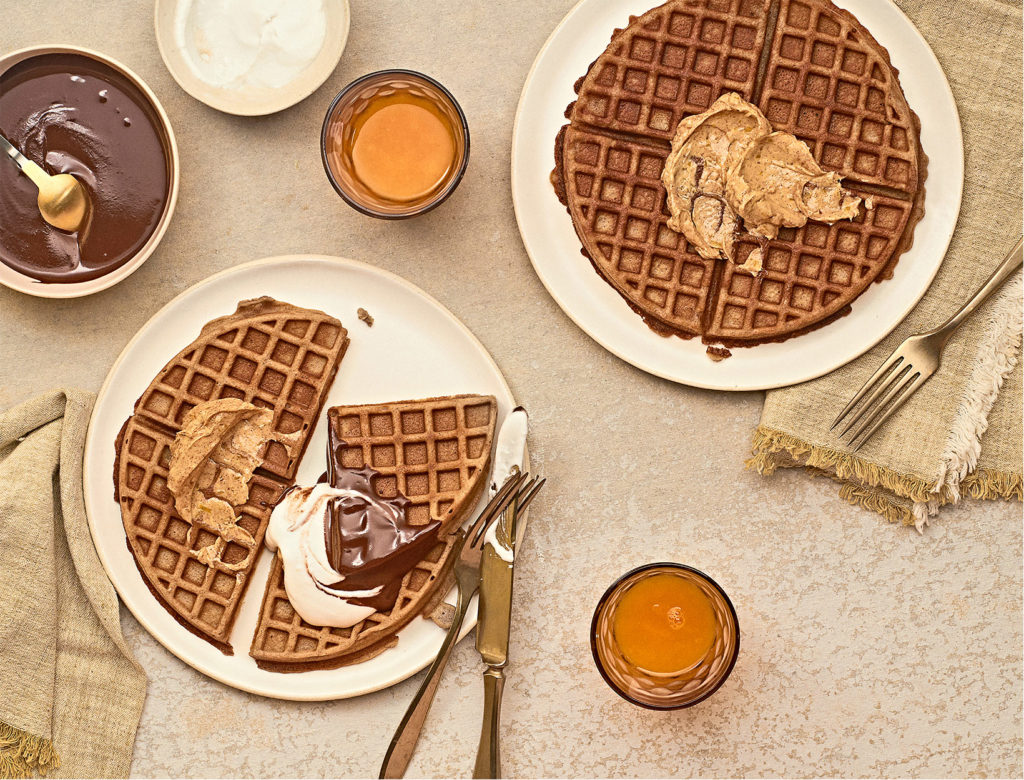 Gingerbread Waffles
Gingerbread-flavored waffles deliver all the festive vibes of the holidays with minimal effort. They're fun to make with kids. And between the ganache, coconut whipped cream, and lemon-ginger compound butter, there's bound to be a topping to make everyone—kids and adults alike—very happy.
For the waffles:
1 pouch Cup4Cup gluten-free pancake mix
3 eggs
1¼ cups milk or almond milk
6 tablespoons melted, cooled butter
2 tablespoons date nectar
½ teaspoon vanilla extract
1 teaspoon ground ginger
1 teaspoon ground cinnamon
½ teaspoon cardamom
¼ teaspoon nutmeg
¼ teaspoon allspice
½ teaspoon salt
for the lemon-ginger compound butter:
½ stick softened butter
½ teaspoon fresh grated ginger
zest of ½ lemon
½ teaspoon cinnamon
For the dark-chocolate coconut ganache:
1 cup full-fat coconut milk
1 cup semisweet chocolate chips
nondairy whipped cream (we like coconut)
1. Combine all the waffle ingredients in a mixing bowl and mix until smooth.
2. Heat a nonstick waffle iron to medium-high, then pour about ¼ cup batter into the center and cook until the automated timer on the waffle maker says it's ready, usually about 3 minutes.
3. To make the compound butter, combine all the ingredients and chill until ready to serve.
4. To make the ganache, warm the coconut milk in a saucepan over medium heat until just boiling. Then pour the warmed coconut milk over the chocolate chips in a heatproof mixing bowl and whisk until the milk melts the chocolate completely.
5. Serve the waffles with the nondairy whipped cream, ganache, and compound butter—and enjoy.