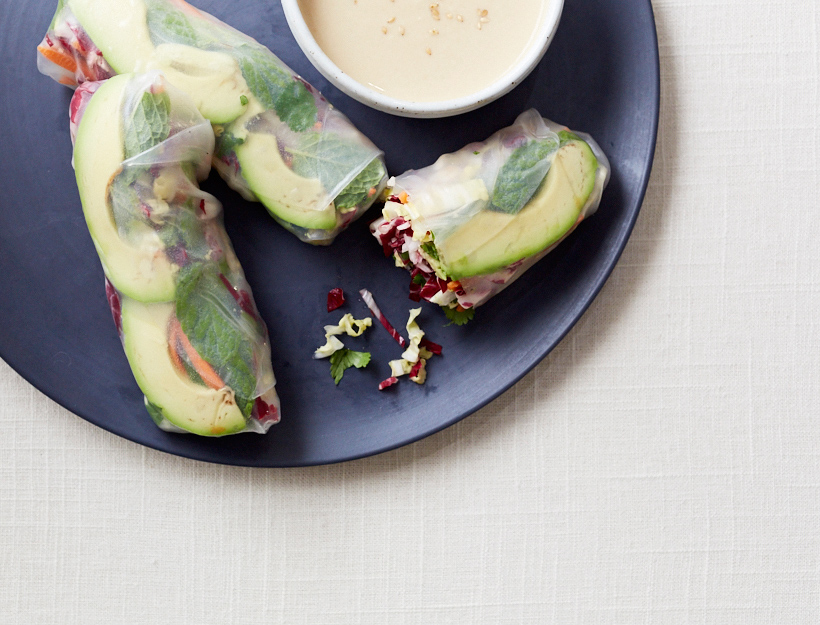 Ginger Sesame Slaw Spring Rolls with Tahini Dipping Sauce
These fresh, delicious spring rolls take a bit of prep time, but once your veggies are ready, they're a breeze to put together. Plus they can be made early in the day and stored in the fridge until you're ready to eat.
1. In a medium bowl, toss together the cabbage, radicchio, jicama, carrot, and cilantro. Drizzle in the vinegar, lime juice, oil, ginger, and sea salt. Toss together until the whole mixture is coated and set it aside while you make the dipping sauce.
2. In a medium glass, whisk together the tahini and warm water until it looks creamy. Add vinegar, lime juice, ginger, soy sauce, and maple syrup, and keep stirring until everything is incorporated. Stick it in the fridge until it's go time.
3. While you're reading how to make the wraps, warm about 3 inches of water in a wok or skillet over a low heat. You want the water hot but not so hot you can't put your hand into it. Turn off the heat. Place one spring roll wrapper flat in the water for 10-15 seconds until it becomes bendy like a noodle. Let the extra water drip off and lay that down on a plate.
4. Now you're going to treat this like it's a tiny burrito. About a half inch from the rim of the wrapper closest to you lay down a good-sized forkful of the slaw, a slice of the avocado, and a leaf or 2 of mint. Roll that over once away from you, then fold the edges in toward the center so you kinda have a rectangle shape going on, and then burrito away. Continue rolling kinda tightly and press the end flap gently against the roll. Keep making rolls until you run out of filling. If you make these a few hours ahead of time, store them in the fridge with a lightly damp paper towel or clean dish towel over them so they don't dry out.
5. Serve chilled or at room temperature.
Originally featured in Love Means Never Having to Share Your (Homemade) Spring Rolls