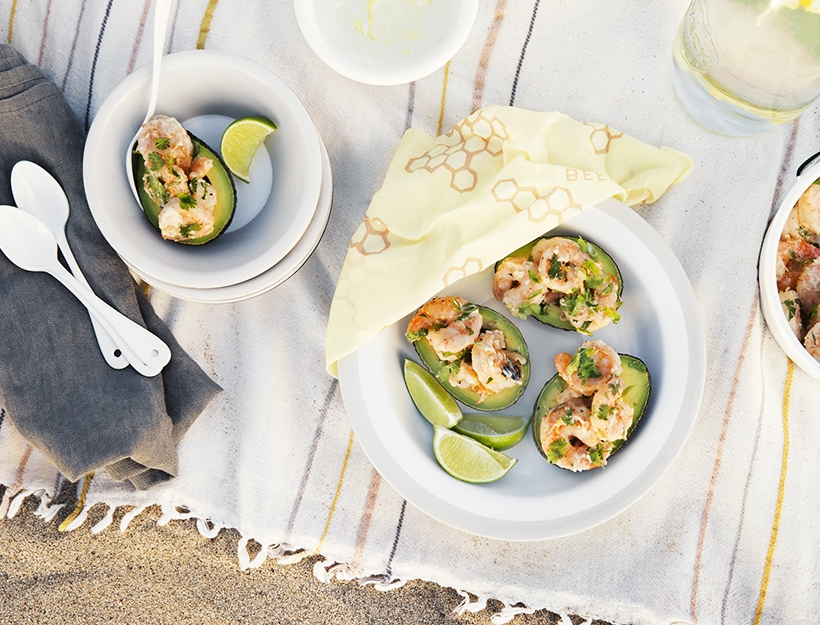 Ginger and Cilantro Shrimp Salad in Avocado Halves
We flavor this shrimp salad with fresh ginger, cilantro, and lime juice and serve it in an avocado shell for a fun and healthy twist on the classic.
1. Preheat the oven to 400°F. Toss the shrimp with the olive oil and season with salt and pepper. Arrange on a baking sheet and roast in the hot oven for 10 minutes.
2. When the shrimp are cool enough to touch, remove the tails and cut shrimp into ¼- to ½-inch pieces.
3. Place in a medium bowl and toss with grated ginger, vegenaise, champagne vinegar, chopped cilantro, and sliced scallion. Season to taste with salt and pepper and store in the fridge until ready to eat.
4. To serve, cut the avocados in half, remove the pits, and season each half with a pinch of coarse sea salt.
5. Divide the shrimp mixture evenly among the 4 avocado halves.
6. Serve each with a spoon and a quarter of lime to squeeze over the top.
Originally featured in Four Easy, Beach-Picnic-Ready Recipes