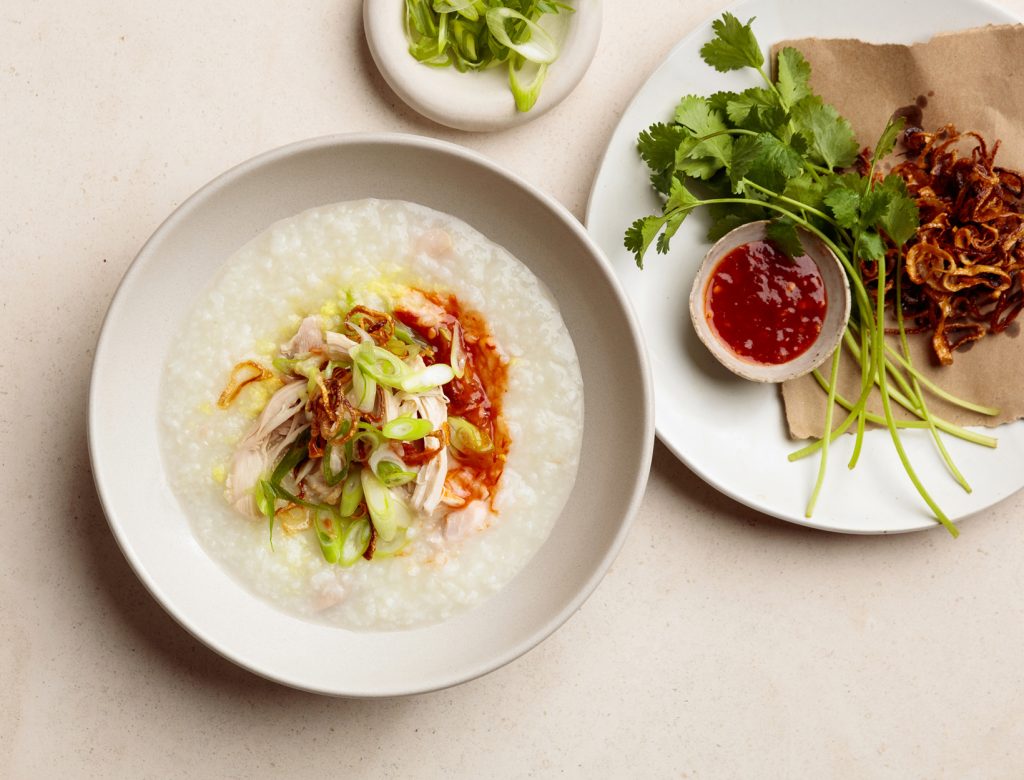 It doesn't get more comforting than congee. The creamy rice porridge is easy to make, and finishing with fresh ginger at the end adds brightness and keeps it light. Don't skip the crispy shallots—in fact, make extra, because you'll want to sprinkle them on everything.
1. Add the rice and stock to a pot and bring to a boil. Once boiling, stir and reduce heat to medium-low. Add the chicken thighs and a large pinch of salt and cover partially. Check the congee, stirring often, to make sure nothing's sticking to the bottom (stirring also helps break down the rice, thickening the congee). The congee should be thick and porridge-y after about an hour. Remove the chicken thighs and shred them, then add back to the congee. If it's getting too thick, you can add water or stock to get it back to your desired consistency.
2. While the congee is cooking, make the crispy shallots. Combine the thinly sliced shallots and oil in the smallest saucepan you have. Add oil as necessary, just to cover the shallots. Bring the mixture to a simmer over medium heat, then reduce heat to maintain a steady simmer and cook for 5 to 7 minutes or until lightly browned. Use tongs or a slotted spoon to remove shallots to a paper-towel-lined plate (don't worry if they don't feel crispy—they will crisp up as they cool) and season immediately with a pinch of salt.
3. Right before serving, season and salt to taste (bearing in mind that the dish is finished with salty tamari and crispy shallots), then stir in the grated ginger.
4. Top the congee with a bit of tamari, sambal oelek, sliced scallions, cilantro, and crispy shallots.
Originally featured in Chicken Soup: 4 Comfort-Food Versions from Around the World