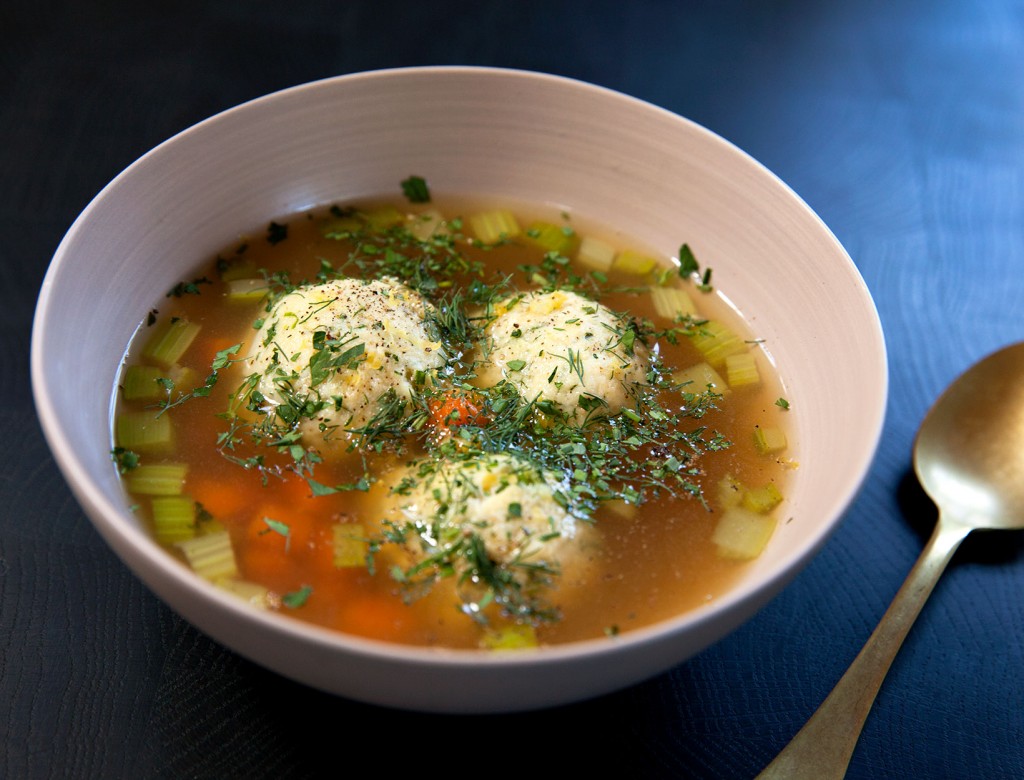 Gluten-Free Matzo Ball Soup
Inspired by the gluten-free matzo balls in Lindsey S. Love's book Chickpea Flour Does It All, we made a springy version packed with lemon zest and tons of fresh herbs. It's really good.
1. In a medium bowl, whisk together the chickpea flour, baking powder, and salt. Add the lemon zest and fresh herbs and stir to combine.
2. Add the olive oil and the egg and use a spatula or wooden spoon to stir everything together.
3. Place in the fridge to rest for at least 15 minutes and up to overnight.
4. Bring a large Dutch oven or pot (with a lid) filled ¾ of the way with water up to a boil, then reduce to a steady simmer.
5. Prepare a small bowl of water and remove the chickpea mixture from the fridge. Wet your hands and begin rolling the mixture into golf-ball-size balls, dropping them into the simmering water as they're ready (you should get about 8 balls). The dough will be sticky, so work quickly and deliberately, and don't worry if some of the mixture sticks to your fingers.
6. When all of the matzo balls are in the water, cover the pot and simmer for 10 minutes.
7. Meanwhile, bring the chicken stock to a simmer in a small saucepan.
8. After 10 minutes, use a slotted spoon to flip the matzo balls over, then cover and gently simmer for another 10 minutes.
9. Add the diced celery and carrot to the chicken stock, along with a pinch of salt.
10. After 10 minutes, use a slotted spoon to divide the cooked matzo balls between 2 bowls, then pour over the chicken stock and veggies.
11. Garnish each bowl with a drizzle of olive oil, a pinch of flaky salt, some grated lemon zest, and extra chopped herbs.
Originally featured in Clean Swap: Gluten-Free Matzo Ball Soup