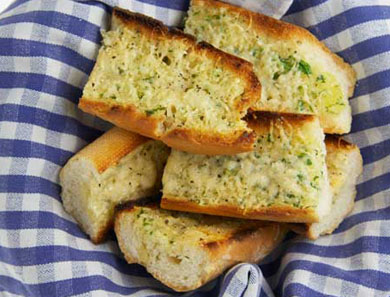 Garlic Bread
The perfect garlic bread. Serve this before a hearty bowl of spaghetti for a true Italian-America experience.
1/4 cup (1/2 stick) lightly salted butter, room temperature
5 cloves garlic, pushed through a press
1 tablespoon finely chopped parsley
1/4 teaspoon freshly ground black pepper
1 baguette
1/2 cup finely grated parmesan
1. Preheat the oven to 375ºF.
2. Stir together the butter, garlic, parsley and pepper until well combined.
3. Cut the baguette in half horizontally and spread each cut side with the garlic butter, being sure to use every last bit.
4. Sandwich the bread back together, wrap in a sheet of tin foil and put in the oven for 10 minutes.
5. Turn on the broiler, unwrap the bread, evenly sprinkle the parmesan over both sides of the bread and broil until the cheese is melted and browned. Check after one minute. (I burn mine by accident 50% of the time, so keep an eye out!
Cut into pieces and serve.
Originally featured in Great Sunday Dinners