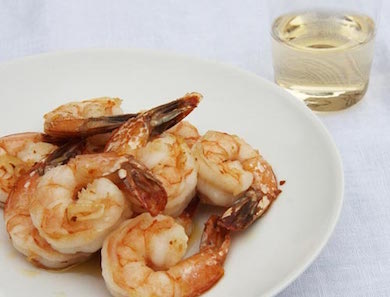 Gambas al Ajillo
This recipe is adapted from my "Spanish Mama," Julia Ruiz Blanco. Basically, this method calls for "poaching" shrimp in olive oil made fragrant with garlic and a bit of chili, and then just barely browning them.
1/2 cup good Spanish olive oil
2 1/2 cloves garlic, thinly sliced
Pinch of your favorite red chili flakes
1 pound medium shrimp, peeled and deveined
Pinch of sea salt
Heat the olive oil with the garlic and chili in a large, heavy skillet over medium-low heat. When the aromatics just start to bubble, add the shrimp and sprinkle each piece with a little bit of salt. Cook for a minute and then turn each one. They should not be browning, just turning opaque. Cook for another minute on the second side. Remove the shrimp from the pan and discard all but two tablespoons of the oil. Turn the heat up to high and return the shrimp to the pan. Cook for about 20 to 30 seconds on each side, until just browned. Serve warm.
Originally featured in Spanish Recipes